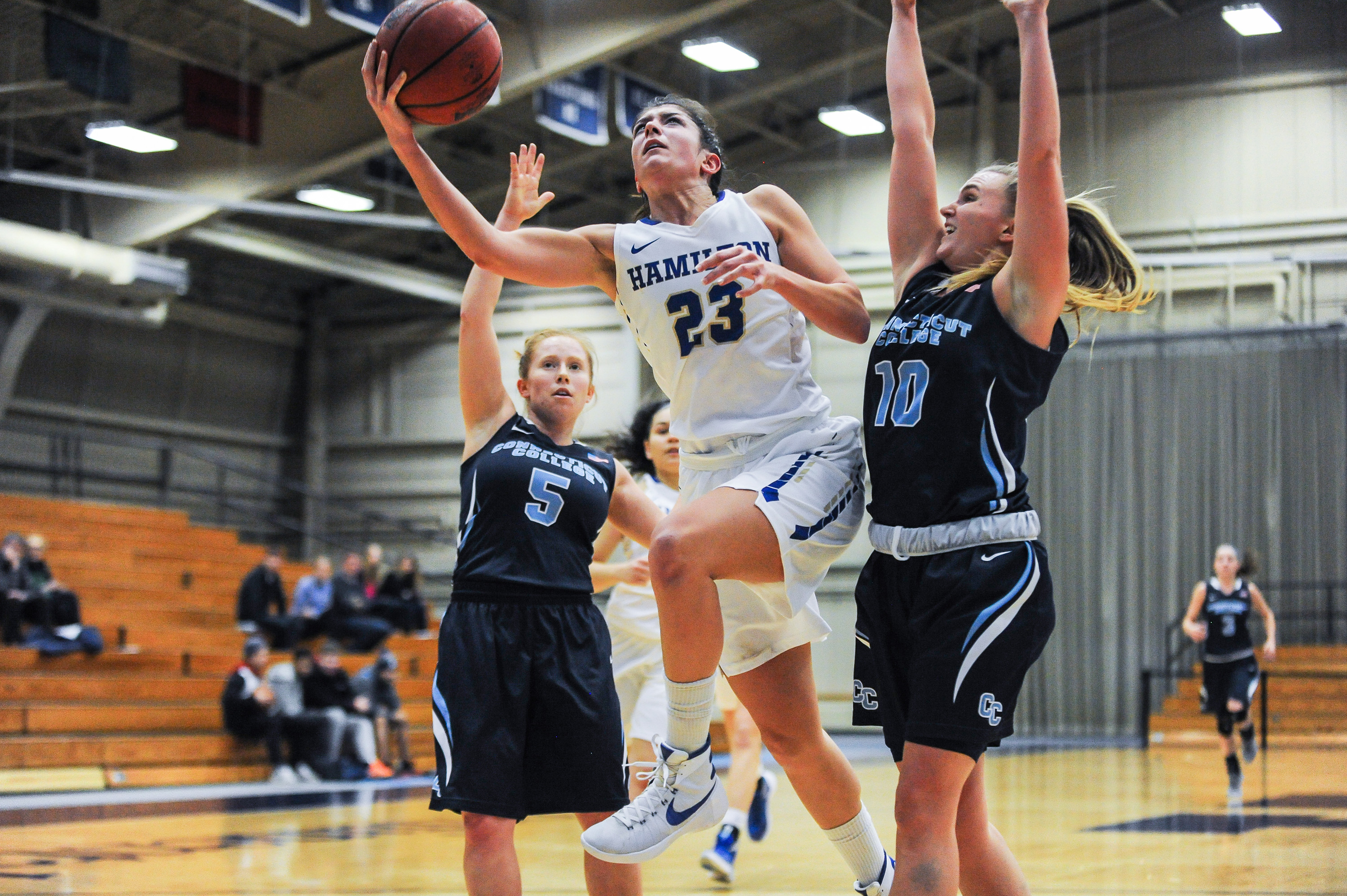 Hamilton College's Sam Graber '16 led all players with 20 points and eight rebounds, and the Continentals edged the Wesleyan University Cardinals 65-60 in a NESCAC game at Hamilton's Margaret Bundy Scott Field House on Saturday afternoon.

Box Score

The Continentals (5-8, 1-1 NESCAC) ended their losing skid at five games by defeating Wesleyan for the fourth time in their last five meetings. The Cardinals (6-6, 0-2) have dropped five straight after a 6-1 start.

Graber posted her fifth 20-point game this season and is third in the conference in scoring with 18.1 points per game. She is just the sixth player in program history with more than 1,200 career points (1,207).

Carly Gruenberg '16 dropped in 15 points and Halie Serbent '19 chipped in 14 for Hamilton. Kendall Rallins '19 handed out five assists. The Continentals enjoyed a 38-23 advantage on the glass.

Maeve Vitale paced Wesleyan with 17 points. Vitale, who entered the weekend ranked fifth in the NESCAC in 3-point field goal percentage at 41.3 percent, was 3 of 6 from beyond the arc. Maddie Bledsoe added 11 points off the bench. The Cardinals finished with a 23-0 advantage in bench points.

Wesleyan took its only lead at 8-7 on a basket by Kaylie Williams late in a low-scoring first quarter. Hamilton responded with a 13-2 run that spanned the first and second quarters and led the rest of the game.

Graber started the spurt with a layup that beat the buzzer at the end of the first quarter. Serbent followed with a basket in the paint, Graber nailed a 3-pointer and Lauren Getman '18 made a shot from close range. After a jumper by the Cardinals' Tara Berger, the Continentals ended the run on baskets by Getman and Gruenberg that made it 20-10 with 2:18 left in the second quarter.

Hamilton led 22-15 at the break as Wesleyan shot just 23.1 percent from the floor in the opening 20 minutes.

The pace picked up considerably in the third quarter and the Cardinals made a run at the Continentals. Wesleyan pulled to within two points at 24-22 and 27-25 but Hamilton threatened to put the game out of reach with a 14-3 spurt over a four-minute stretch.

Graber got things started with a 3-pointer and, after a free throw by the Cardinals' Danielle Gervacio, Gruenberg made a layup. Serbent followed with a pair of buckets and Rallins drove into the paint for a basket. Wesleyan's Chynna Bailey pulled the Cardinals within 10 with a layup, but Gruenberg countered with an old-fashioned 3-point play, and the Continentals had their largest lead of 13 points at 41-28 with 3:01 remaining in the third.

Hamilton owned a 45-36 cushion after three quarters and it seemed the Continentals were going to coast to the victory. Hamilton still led by 12 at 55-43 after a Gruenberg jumper with 7:01 to go.

Wesleyan had one more run left in it and pulled to within 58-56 with 1:23 left. Bledsoe scored five points, Bailey made three free throws and Williams capped the 13-3 spurt with a layup.

Rallins made it a four-point game on a pair of free throws with 1:06 remaining. Vitale cut the Cardinals' deficit to two again on a layup with 39 seconds to go and Graber pushed it back to four with a layup on a nice feed from Rallins with 17 seconds left.

Vitale found Bledsoe for another easy basket and it was 62-60 with nine seconds remaining. Serbent was immediately fouled after catching the inbounds pass and she calmly clinched the win by making two free throws for a 64-60 lead with 8.4 seconds to go.

Both teams were hot from the field in the second half as the Continentals shot 59.3 percent and Wesleyan shot 57.1 percent.

Hamilton travels to Bates College for another NESCAC game on Friday, Jan. 15, at 7 p.m. The Cardinals host nationally ranked No. 3 Amherst College for conference action on Friday at 7.