Hamilton Honors Its Student EMTs
---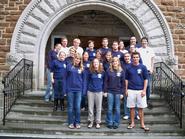 Hamilton is proud to recognize its 24 student volunteer members of Hamilton College Emergency Medical Services (HCEMS) as the week of Nov. 7 marks National Collegiate Emergency Medical Services Week.
The current active members include seniors Andrew Branting, Matthew Breen, Sam Cowan, Peter Garrett, Kathy Lee, Travis Rosenblatt, Sam Ward, Caitlyn Williams and Keith Willner. Class of 2012 EMS members are Hailey Bobin, Kayla Brenden, Lauren Brousseau, Sarah Dreyer-Oren, Matthew Farrington, Jeannie Folan, James Kruger, Sara M. Miller and Lindsay Shankman. Sophomore class members are Ethan Ayres, Jamie Azdair, Melanie Hundt, Connor Polet, Susannah Spero and Ashley Sutton.
HCEMS is the first response for any medical emergency that occurs on campus. All members are New York State certified EMTs. If transport is needed, they request that COCVAC be dispatched to transport the patient.

HCEMS is a New York State Basic Life Support Agency with Dr. David Petrie as the medical director and Student Health Services nurse Diann Lynch as the coordinator. The student members provide coverage 24-hours-a-day, seven-days-a-week for the campus community throughout the academic year, and respond to an average of 100 medical emergencies each semester. They balance their academics and activities with volunteering much of their time, which means being on-call and attending to urgent medical situations. Time management and organization is critical to their daily routine.
The students volunteer an average of 30 hours or more a week on-call. Most of the members of HCEMS take the EMT course taught by Midstate EMS on campus during the spring semester of their freshman year, which involves a three-hour class twice a week, and several six-hour Saturday morning labs during the spring semester. Beyond the initial course, members are required to take weekly review quizzes and attend review sessions every three weeks.