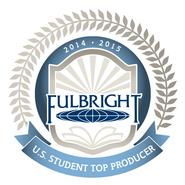 Hamilton College is among U.S. colleges and universities that produced the most 2014-2015 Fulbright U.S. students, according to the U.S. Department of State's Bureau of Educational and Cultural Affairs. The Fulbright Program is the U.S. government's flagship international educational exchange program. Top-producing institutions are highlighted annually in The Chronicle of Higher Education.
According to the list, Hamilton is the only "bachelor's college" among the top 40 listed where more than half of its applicants received Fulbrights. For 2014-2015, seven Hamilton students and two alumni were awarded Fulbright grants and English Teaching Assistantships. They traveled to Germany, Taiwan, Turkey, Malaysia, Indonesia and Copenhagen.
The Fulbright competition is administered at Hamilton through Student Fellowships Coordinator Virginia (Ginny) Dosch. Professor of History Douglas Ambrose and Associate Professor of Russian Studies John Bartle have comprised Hamilton's Fulbright committee with Dosch for almost 15 years.
"The Fulbright grantees have certain things in common – they have taken advantage of many opportunities at Hamilton, including: conducting research with professors, participating in career-related internships, studying abroad or away, working on independent projects, and engaging in co-curricular activities on campus and in the community," Dosch remarked. "They have the experience, skills and confidence to study, conduct research, or teach English abroad."
Since its inception in 1946, the Fulbright Program has provided more than 360,000 participants—chosen for their academic merit and leadership potential — with the opportunity to exchange ideas and contribute to finding solutions to shared international concerns. Over 1,800 U.S. students, artists and young professionals in more than 100 different fields of study are offered Fulbright Program grants to study, teach English and conduct research annually. The Fulbright U.S. Student Program operates in more than 140 countries throughout the world. Lists of Fulbright recipients are available here.