Hamilton Joins with Say Yes to Education
---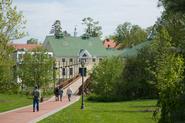 Say Yes to Education Inc., a national non-profit organization that helps children in urban school districts to go to college and pay for college, announced that Hamilton College and 10 other private colleges and universities have joined the organization's higher education compact, which offers free tuition to eligible students.
The announcement was made on Sept. 18 at a media event on Capitol Hill by George Weiss, the money manager who founded Say Yes to Education 26 years ago, and U.S. Senator Kirsten Gillibrand of New York, a longtime supporter of the program, which is available to all public school students in Buffalo and Syracuse, as well as to groups of students in New York City and Philadelphia.
In addition to Hamilton, the other 10 institutions – which bring to 53 the total number in the Say Yes Higher Education Compact -- are Cornell University and Paul Smith's College of the Adirondacks, in New York; Princeton in New Jersey; Dartmouth College in New Hampshire; Rice University in Texas; Pomona College in California; Denison University in Ohio; and Rhodes College, Sewanee: The University of the South and Vanderbilt University in Tennessee.
The 54 private colleges and universities in the Say Yes Higher Education Compact – including Syracuse University, the University of Pennsylvania, Harvard University and Notre Dame – promise full tuition to accepted Say Yes scholars whose annual family income is at or below $75,000.
Say Yes to Education, which is based in New York City and serves nearly 65,000 children in kindergarten through 12th grade, has been working with the Syracuse school district since 2008 and with the schools in Buffalo since 2012. The organization expects to expand nationally, to other cities, in the coming years.
A critical component of the Say Yes approach is the scholarships for which the organization's students are eligible. In Syracuse and Buffalo, graduates of the cities' public high schools are eligible for up to 100 percent of the tuition needed to attend any public, two- or four-year college or university in New York State to which they are accepted. Those scholarships are paid through local scholarship funds being raised in Syracuse and Buffalo.
"Say Yes has always been about hope," Mr. Weiss said. "By standing with Say Yes, what these private colleges and universities are saying is that our students will have the same opportunities as anyone else in this wonderful country of ours."
"Higher education remains one of the clearest paths to the middle class in this country – and it must be within reach for anyone willing to work their hardest, and earn their degree,'' Senator Gillibrandsaid. "Say Yes makes this possible. I saw it in action during one of my very first visits to Syracuse as Senator. I saw right away the effectiveness of local stakeholders at every level working together to support students at every step of the way.''


The Senator added: "And with eleven more colleges joining the Say Yes Compact, and with support like this from the Wallace Foundation for Say Yes in Buffalo – that's the power to do even more. Say Yes works because it shows young people what's possible, and brings those possibilities within reach. Say Yes tells our young people – to think big. To dream big. And gives them the chance and the tools to earn it."
In addition to scholarships, the organization and its local partners provide an array of services to students and their families that are intended to eliminate any obstacles to academic success. Those services include mental health counseling, medical care, academic tutoring and legal assistance.