Hamilton and Kirkland Alumni Run for Elected Office
---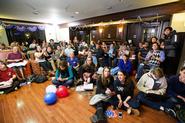 Members of the Hamilton community were interested in far more than the results of the presidential election on Tuesday. Two Hamilton alumni and a Kirkland alumna were also running for elected office.

Matt Cartwright '83 P'15 won the Congressional seat for Pennsylvania's 17th district, which includes parts of Carbon, Lackawanna, Luzerne, Monroe and Northampton Counties, and all of Schuylkill County. Cartwright beat 10-term incumbent Tim Holden in the primary and went on to win the general election over Laureen Cummings.

In her first political campaign Christie Vilsack K'72, P'00 lost to five-term Republican incumbent Steve King in Iowa's 4th Congressional district in a hard-fought race. Vilsack is married to U.S. Secretary of Agriculture and Hamilton alumnus Tom Vilsack '72 P'00, the former governor of Iowa.

In New York State, Ron Kim '02 was elected to the N.Y. Assembly representing Flushing's newly drawn 40th district. With his election Kim made history as the first Korean-American elected to statewide office in New York.