Hamilton Makes Art 2 Auction is Under Way
---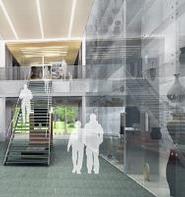 Hamilton Makes Art 2, an online and live auction of works of art by Kirkland and Hamilton College alumni, is currently under way. Half of all proceeds will benefit Hamilton's Bicentennial Initiatives Arts Facilities Project which will fund the construction of a new museum, theatre and studio art facility.
This is the second such exhibition, and represents the works of 30 artists including one current student and 10 graduates of the last decade. Paintings, sculptures, and mixed media by other Kirkland and Hamilton alumni and parents are also included in the show, curated by Adrienne Ruger Conzelman '92.
The online auction will run through Dec. 1 at 10:30 p.m. The live event will take place on Dec. 2 - 4, at Art Capital Group, 980 Madison Ave., 3rd floor, New York, N.Y. An opening reception will take place on Thursday, Dec. 2, at 7:30 p.m.