Hamilton Nordic Skiers Compete in 35th Annual Gatineau Loppet
---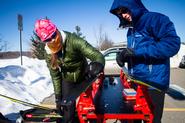 Five Hamilton Nordic skiers headed north on the weekend of Feb. 14-16 to the 35th Gatineau Loppet in Quebec to compete against skiers of all ages from across the world. The group drove more than 240 miles from Clinton, N.Y., to the bustling city of Gatineau, Quebec, just across the river from Ottawa. The Loppet is a weekend-long celebration of cross-country ski racing centered around a multitude of races ranging in distance from 5 km to 55 km. Hamilton Nordic entered five skiers to compete in Saturday's long 20 km classic race.
Hamilton Nordic is a competitive club-team whose members span the spectrum from seasoned racing veterans to never-skied-before rookies. They compete in the Eastern Collegiate Ski Conference against other colleges such as Cornell, Yale, Vassar and West Point. The team practices every day on-campus and travels across New England on the weekends to compete. Normal season races are generally 5-10 km long and all team members ski both the classic and skate disciplines.
As the gun went off at the Loppet more than 250 skiers began the 20km course that included long climbs, steep descents and tight crowded turns. Peter Skaggs '16 was the first Hamilton skier to finish, coming in 14th place overall and narrowly missing winning his age group. Soon after Skaggs came team captain McKayla Dunfey '13 placing in the top 30 finishers and winning her age division. Close behind her was Dunfey's co-captain Hannah Kingston '15 placing in the top 50 and also winning her age division.
Two of the team's rookies Annie Emanuels '16 and David Morgan '15 rounded out Hamilton's entrants. They both substantially beat their expected finishing times. Overall it was a successful weekend and big step in Hamilton Nordic's future.