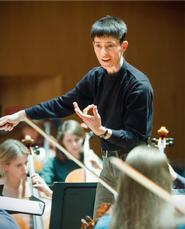 The Hamilton College Orchestra, conducted by Heather Buchman, presents the annual Brainstorm! concert on Sunday, March 6, at 3 p.m., in Wellin Hall. This year's theme is "Landscape Music."
The program includes Sibelius's Symphony No. 2, which explores the interpretation of musical works that are connected to nature, landscape, and place through a contemporary eco-critical lens. The links between art and nature take on heightened resonance in an age of increased awareness of human impact on the environment, as the effects of climate change have already begun to reshape our world. Sibelius's Second Symphony, rooted in a far Northern climate, captures the freshness of untamed nature without this human imprint.
This concert is free and open to the public. For more information call the box office at 859-4331or visit www.hamiltonpa.org.