Performing Arts Presents the Early Music Vocal Ensemble Pomerium
---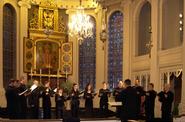 The Classical Connections Performing Arts Series at Hamilton College continues with the early music vocal group Pomerium on Friday, Sept. 25, at 8 p.m. in Wellin Hall in the Schambach Center for Music and the Performing Arts.

Inspired by the renowned chapel choirs of the Renaissance, Pomerium revives the golden age of a cappella singing. The ensemble, featuring some of the finest singers in the country and acclaimed for its luminous sound, performs frequently in New York as well as across the U.S. and abroad. Pomerium is widely regarded for the warmth and precision of its members' voices, for the richness and clarity of their sound, and for being, as stated in The New York Times, "one of the finest early-music ensembles in the country, and perhaps the world."

Founded in 1972 by Alexander Blachly, Pomerium takes its name from a 14th century treatise on musical notation by Marchetus de Padua also called "Pomerium," and meaning "garden" or "orchard." Padua felt his work contained all the flowers and fruits that music had to offer.

The Hamilton program, Mannerist Music of the Renaissance, will feature songs from the 16th century by the composers Wert, Lassus and Gesualdo. These songs are vividly pictorial and push emotions to extremes in musically arresting ways.

Pomerium director Alexander Blachly is the 1992 recipient of the Noah Greenberg Award given by the American Musicological Society to stimulate historically aware performances and the study of historical performing practices, has been active in early music as both performer and scholar for the past 38 years. He earned his post-graduate degrees in musicology from Columbia University and assumed the post of director of choral music at the University of Notre Dame in 1993. In addition to Pomerium, Blachly directs the University of Notre Dame Chorale and Chamber Orchestra.

Tickets for this performance are $18 for adults, $12 for seniors, and $5 for students. To purchase tickets or for more information call the box office at 315-859-4331 or visit www.hamiltonpa.org.