Masters of Tradition: Celebrating Irish Music on March 2
---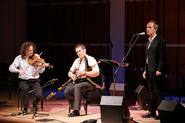 The Hamilton College Performing Arts Series presents Martin Hayes and Dennis Cahill in Masters of Tradition: Celebrating Irish Music on Saturday, March 2, at 8 p.m., in Wellin Hall, Schambach Center for Music and the Performing Arts.
"In its purest form, Irish traditional music speaks a universal language," says Martin Hayes, artistic director of Masters of Tradition on Tour. "The goal of this touring show is to focus on the details and nuances of Irish traditional music. The performers are all masters of their instruments. Through their talent and abilities, the sophistication and artfulness of the music is revealed."
With performances of solos, duets, trios and full group collaborations, the evening's format gives real insight into the musical journeys that these musicians, and the masterful music they play, have taken over the years.
For this tour, seven of the most compelling artists in Irish music today collaborate for a unique concert. Those musicians are: David Power, uilleann pipes; Martin Hayes, fiddle; Cathal Hayden, fiddle; Máirtín O'Connor, accordion; Seamie O'Dowd , guitar; Dennis Cahill, guitar; Iarla Ó Lionáird, vocals.
Tickets for this event are $20 for adults, $15 for senior citizens and $5 for students. For tickets or more information, call the box office at 859-4331 or visit www.hamiltonpa.org.