Hamilton Receives Second Year of Funding for ACC Program
---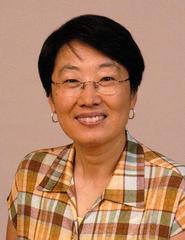 Hamilton College has received confirmation of a second year of funding from the Department of Education for Hamilton's Fulbright-Hays Group Projects Abroad program. The award will continue support for the project "ACC Intensive Language Training Program for Students and Language Professionals." The second year grant totals $363,230. The project is managed by Hong Gang Jin, the William R. Kenan Professor of Chinese, and Associated Colleges in China (ACC) general director.
This award represents a $54,485 increase from last year's award, which will enable Jin and her program staff to award more fellowships to the ACC program and increase the amount of those fellowships.
"I hope this will help our colleagues and students to realize that Hamilton College offers a really unique suite of innovative programs that are used as national models for less commonly taught languages,"Jin remarked.
The ACC Intensive Language & Culture Program in Beijing is a Chinese language program administered by Hamilton College and hosted by Minzu University of China (MUC) in Beijing.
The total ACC language project cost is $1,059,435 with federal money covering 63 percent of that. Hamilton College and the Associated Colleges in China are contributing $387,460 or 37 percent of the total costs, to the project over two years.
The ACC Intensive Language Training Program for Students and Language Professionals will expand its fellowship program to 20 fellowships enabling more full-year students to join the ACC's existing advanced language and culture study aboard program; fund 12 fellowships for ACC's field studies program; establish 12 fellowships for Chinese language teachers' institute for K-12 nonnative teachers; and, create a distance learning center to offer individualized online instruction to Fulbright fellows and other advanced U.S. students who are in need of continuing their Chinese language and culture learning beyond their study abroad experience.
These programs will help students and Chinese teachers at different stages in the learning process further develop their language proficiency and cultural competency by participating in a series of carefully designed programs, including intensive language/culture training, first-hand field experience in China, hands-on projects and pedagogical workshops, and face-to-face or online interaction with Chinese people.
Jin explained that the grant will provide the financial means for many U.S. students to participate in study abroad programs in China; help ACC to continue to experiment innovative and cutting-edge learning theories and program models; allow the field to recognize that Hamilton College is the leader of foreign language education; and contribute to American's global competitiveness by graduating competent speakers of Chinese language.