Hamilton Reduces Residence Hall Electric Use by 5.8%, Wins Negawatt Challenge
---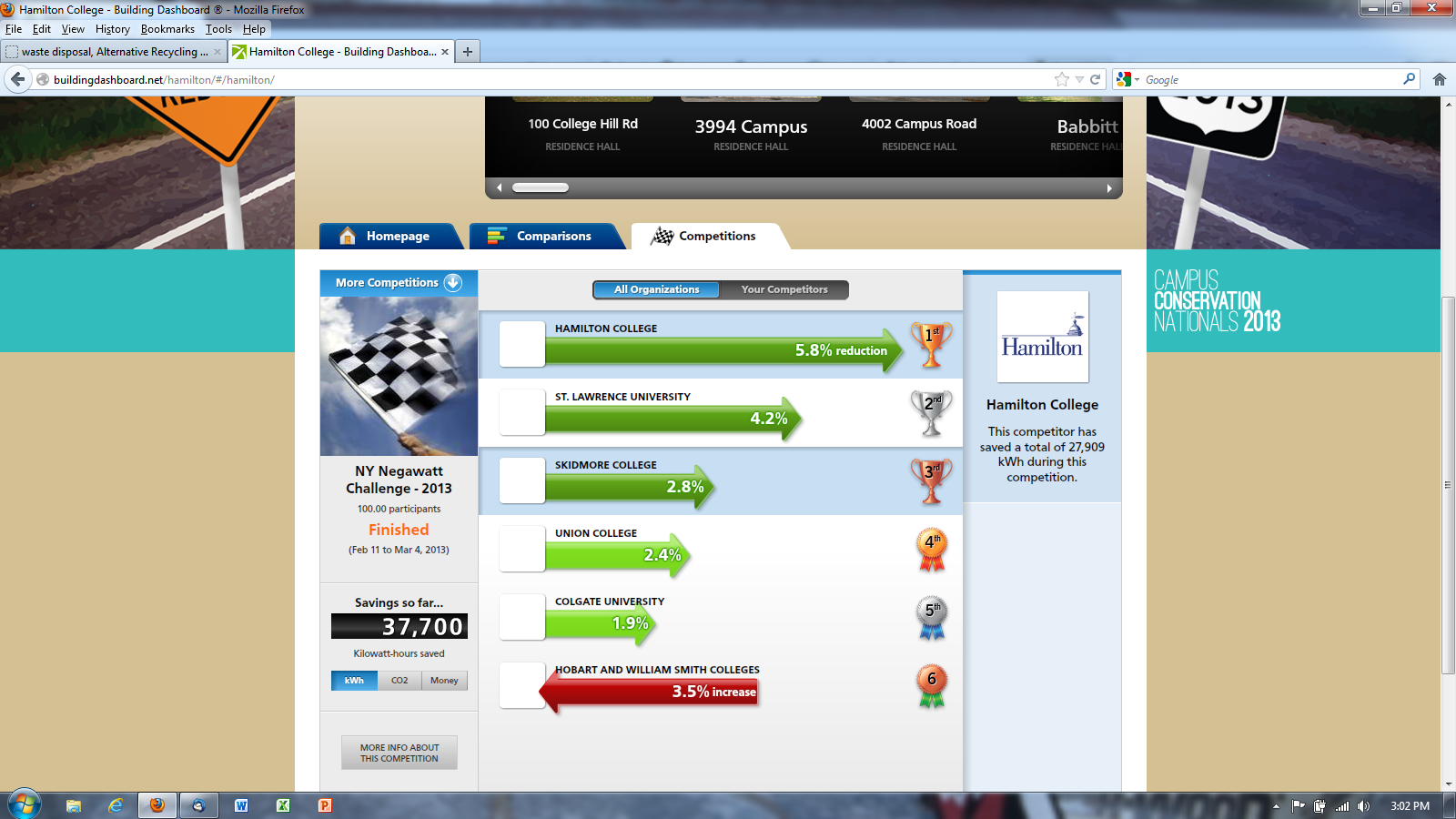 Students came back from spring break to some good news concerning sustainability on the Hill. Hamilton was the winner of the three-week NY Negawatt/CCN Competition Challenge among New York Six Liberal Arts Consortium peer schools. The student body, led by Hamilton Environmental Action Group (HEAG) reduced electricity consumption across all Hamilton residence halls by 5.8%, which equates to 27,909 kilowatt hours or approximately $2,500.
Nora Boylan '15 HEAG co-president, said "HEAG is absolutely thrilled about this big win because it demonstrates that Hamilton as a community is dedicated to making a difference concerning sustainability here on campus. It was a lot of difficult work to get CCN up and running and to keep everyone motivated, but we're so glad that all of our hard work paid off and are thankful to the students and staff who adjusted their ways to decrease their energy consumption.
Boylan said that HEAG is planning to use the winnings of $4,000 "to purchase re-usable water bottles for the incoming class of 2017 as part of our Take Back the Tap Campaign. HEAG's overall goal is to drastically reduce the amount of bottled water used here on campus," said Boylan, "and our hope is that by providing students with reusable bottles this goal can become a reality."
Brian Hansen, Director of Environmental Protection Safety and Sustainability, added, "Aside from the fact that our students won the local competition amongst our 'NY 6' peers, this kind of commitment to environmentally responsible consumption is at the heart of the sustainability movement. Further, I applaud HEAG's decision to use the 'carrot' offered by Karen Leach ($4000 in funding) toward the purchase of reusable water bottles for all members of next fall's incoming first-year class."
The residents of Saunders Hall were the winners of the internal dorm-by-dorm competition at a 13.5% reduction, with the residents of Major and Bundy West getting 2nd and 3rd place respectively.
In addition to Hamilton, members of the New York Six are Colgate University, Hobart and William Smith Colleges, St. Lawrence University, Skidmore College and Union College.