Celebrate Hamilton Reunions '13 June 6-9
---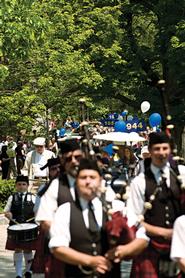 Alumni will gather to celebrate the start of Hamilton's third century during Reunions '13, June 6-9. Nearly 1200 alumni and their guests are expected. A special welcome is extended to members of the class of 1963 who are celebrating their 50th reunion. A full schedule of events will keep attendees busy through the weekend.

Events begin on Thursday, June 6, with the opening reception for the Faculty Art Show at 4 p.m. in the Wellin Museum of Art. This exhibition highlights recent work by Hamilton College's celebrated studio art faculty.

On Friday at 10 a.m. guests can join Professor of Music Sam Pellman, Associate Professor of Art Rebecca Murtaugh and Professor of Theatre Craig Latrell for a preview of coming attractions in the new arts center. (The Overlook, Ruth and Elmer Wellin Museum of Art).

Twenty Alumni Colleges during the weekend will educate and entertain. On Friday at 11 a.m., Tom Forrest, founder of Nashville-based Taillight TV, and other members of the Class of 1988 in the film, television and music industries will discuss their careers and the future of entertainment. (KJ 201).

A topic on everyone's mind, The Cost of Education, will be the focus of an Alumni College on Friday at 2:30 p.m. Carl Hayden '63, former chairman, State University of New York; Tom Schwarz '66, president, Purchase College SUNY; Paul Hamlin '63, retired regional vice president, University of Phoenix; and Hamilton's Vice President for Administration and Finance Karen Leach will explore the financial challenges of higher education today. (Bradford Auditorium).
To Them That's Gone Film Screening. Conceived and produced by Hamilton alumni, this documentary commemorates the 4,000-mile cross-country run organized in honor of Michael Cleary '03 and all the soldiers who lost their lives during Operation Iraqi Freedom. Friday, June 7, 8 p.m., Bradford Auditorium. Also on Saturday at 1:30 p.m.
Among other Reunion events Sean Kevin Fitzpatrick '63, P'87 will deliver the half-Century Annalist Letter at the annual meeting of the Alumni Association on Saturday at 10:30 a.m. in the Chapel. In addition, the Bell Ringer award will be awarded to William Braunlich '57, a devoted member of the Hamilton family. An all-alumni cookout follows on Dunham Green.

On Saturday at 2 p.m. alumni and guests can join in Race for the Case: A Nostalgic Scavenger. Teams of four are invited to compete in surmounting challenges around campus and downtown in an allotted amount of time. The challenges are designed to help re-live the Hamilton experience while exploring the campus and village.

In My Fly-Fishing Adventures, Lew Sandler '58 will recount anecdotes and adventures, both remarkable and humorous, from his 40 years of avocational high-mountain fly-fishing in Alaska, British Columbia, the western United States, Argentina, New Zealand and other exotic destinations. Novice, experienced and would-be practitioners alike will be inspired and entertained by these stories from a seasoned angler. Saturday, 3 p.m. Taylor Science Center, G041.

On Saturday evening attendees can enjoy a performance of World-Class Jazz, featuring the Nicki Parrott Trio in Soper Hall of Commons, and a Saturday Night Dance party: The Return of the Rogue, in the Tolles Pavilion.

Also during the weekend alumni will celebrate at class dinners, hold class meetings and participate in a Service of Remembrance for deceased classmates.