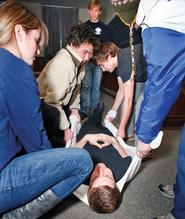 This week marks the National Collegiate Emergency Services Foundation's National Collegiate EMS week, during which Hamilton recognizes the efforts of its student EMTs. Whenever there is a medical emergency on the Hamilton College campus, student EMTs are always the first-responders. The Hamilton College Emergency Medical Services (HCEMS) team comprises 24 students from varied backgrounds and interests. We salute them this week and thank them for their service.
The current members of HCEMS include seniors Amal Asghar, Katherine Callahan, Ian Carradine, Laura McCormick, Lillian McCullough, Kathleen Moran, Marie Murray and Amy Wright.
Junior HCEMS members are Hannah Ferris, Emily Foley, Blaire Frett, Katherine Getman, Brian Jung, Sara Lewis, Keara Lynn, Louise Owens and Luis Serota.
Sophomore members are Beatrice Blackwell, Jonathan Capelin, Hawer Conteh, Andrew Fischer, Sarah Gamblin, Paul Green and Matthew Reinemann.