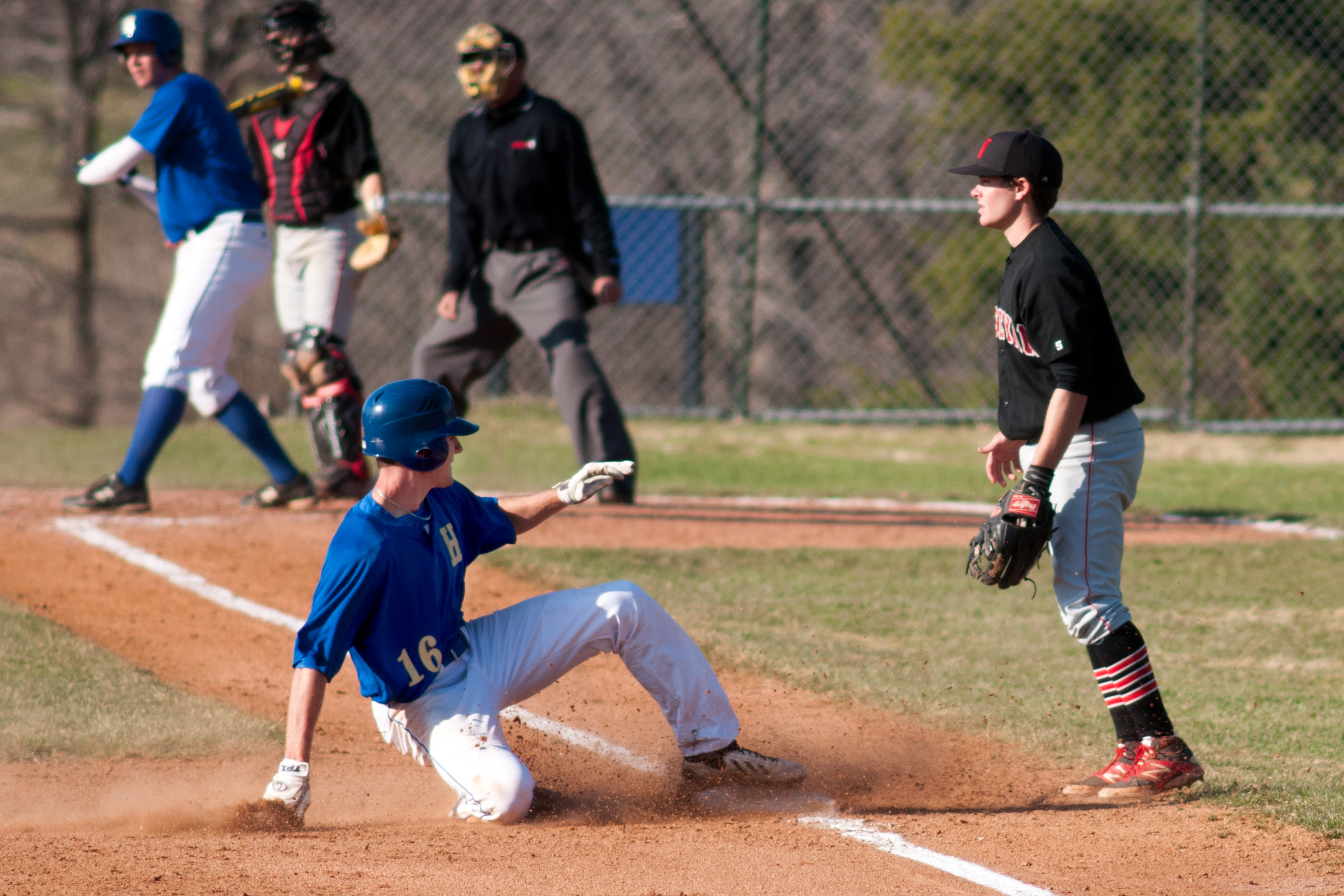 The Hamilton College Continentals snapped the Wesleyan University Cardinals' win streak at 12 games with a 5-3 victory in game two of a NESCAC West Division doubleheader at Hamilton's Royce Field on Saturday afternoon.

Game one box score | Game two box score

The Cardinals (20-6, 8-1 NESCAC West) won the opener, 7-1. Four Continental pitchers combined to hold the Cardinals, who averaged seven runs per game during their winning streak, to three runs over nine innings. Starter Joe Wagner '14 allowed one run over four innings and Tommy Moriarty '14 -- the second of three Hamilton relievers -- shut out Wesleyan over three innings. Wagner and Moriarty were two of the four Continental seniors honored before the doubleheader.

Hamilton (9-11, 2-6) erased Wesleyan's 2-0 lead with three unearned runs in the fifth inning. After Chris Collins '17 reached on an infield error, his brother Kenny Collins '17 beat out a bunt and Brett Mele '17 singled home the first run. Following a double steal, Kenny Collins and Mele scored on a sacrifice fly by Andrew Haser '17 when the throw home went out of play.

The Continentals added insurance runs in the sixth and ninth innings. Joe Jensen '15 singled to lead off the sixth and stole second (his fifth steal of the weekend series) before he came home on a run-scoring single by Ryan Wolfsberg '17. Jensen drove in Hamilton's fifth run, bringing in Haser with a base hit through the left side.

Wesleyan rallied with a run in the ninth and brought the go-ahead run to the plate. Andrew Yin '15 singled with one out and Donnie Cimino '15 and Sam Goodwin-Boyd '15 hit consecutive two-out singles to cut Hamilton's lead to 5-3 and put the tying run on base. Hamilton's Ryan Crawford '15, who earned his second save of the season, got the final out on a fly ball to center field by Wesleyan's leading hitter.

Jensen, Wolfsberg and Haser finished with two hits each. Cole Dreyfuss '16 pitched the top of the fifth inning and picked up his first win of the season.

The Cardinals scored single runs in the fourth and fifth innings to take a 2-0 lead. Cimino singled, stole second and scored Wesleyan's first run on an RBI single by Robby Harbison '17. An inning later, Ellis Schaefer '17 brought home Eric Jones '16 with an infield grounder. Jones reached base with a one-out double and took third on a wild pitch.

Wesleyan stranded 11 runners, including two runners on base in three of their last four at bats.

In game one, Jeff Blout '14 pitched a complete game five-hitter, allowing just five base runners over the first six innings. The Continentals loaded the bases in the seventh in their final at bat. Kenny Collins beat out an infield single with one out and Mele followed with a single to right. One out later, Brian Ferrell '16 reached on an infield single but Blout ended the threat by striking out the final batter and improved to 5-0 this season.

The Cardinals needed just four batters to take a 3-0 lead with Goodwin-Boyd powering his first home run over the left field fence with Yin and Cimino on base. Goodwin-Boyd added an RBI single in Wesleyan's two-run fifth and Cimino, who scored three runs, came home on an infield groundout by Guy Davidson '16.

Cimino, Goodwin-Boyd and Harbison all had two of Wesleyan's 10 hits. Harbison singled in a run in the third and Eric Jones '16 brought in a run with a squeeze bunt in the fourth.

The Continentals scored their run in the bottom of the first. Jensen, who raised his season average to .414 with four hits in the doubleheader, reached on an infield chopper. He stole third and scored on a ground ball off the bat of Chris Collins.

Hamilton is scheduled to play a non-conference game against SUNY Canton at Watertown's Duffy Fairgrounds on Tuesday, April 22. The Cardinals, who clinched a spot in next month's four-team NESCAC championship with their win in the opener, host Coast Guard on Tuesday afternoon.