Hamilton selects associate athletic director
---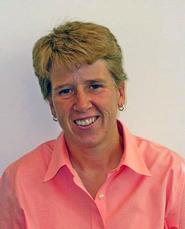 Kerri Fagan, formerly the senior associate commissioner of the America East Conference, has been selected associate director of athletics at Hamilton College.

Fagan, who had been with America East since 2008, replaces Sue Viscomi. Viscomi was recently hired as director of athletics at Hilbert College in suburban Buffalo.

"I would like to thank (athletic director) Jon Hind and the entire search committee for this opportunity," Fagan said. "Hamilton College has great tradition and I am excited to become part of the Hamilton community. I am looking forward to working with the coaches and student-athletes to achieve academic and athletic success."

Fagan directed the overall administration of 20 America East Conference sports and their championships. She was the conference's primary liaison for its women's basketball programs.

Before joining America East, Fagan spent seven years with the NCAA. She was an associate director of championships from 2002 to 2008, and during that time she administered and managed four NCAA championships, including Division III field hockey and Division III women's ice hockey. She served as a liaison to the Division III championships committee and was a member of the Division III governance team. From 2001 to 2002 she was an assistant director of championships for the NCAA, and she was responsible for six championships during that one season.

Fagan served as assistant director of athletics/senior woman administrator at Indiana State University from 1997 to 2001. She administered all aspects of event/facility management for 15 intercollegiate sports. She coordinated NCAA and Missouri Valley Conference (MVC) championship bid process, and was tournament director for championship events for both organizations.

"We are thrilled to have Kerri Fagan join our team," Hind '80 said. "Her many varied experiences in intercollegiate athletics will serve our department and the College well. We look forward to a unique perspective she will share with the department based on her administrative work at the institutional, conference and NCAA levels."

Fagan is a member of the National Association of Collegiate Women's Athletics Administrators. She played varsity field hockey at the University of Massachusetts in Amherst and graduated with a bachelor's degree in sport management in 1992. She earned her master's degree in sport administration from the University of Wisconsin-La Crosse in 1995. She is from Burrillville, R.I.