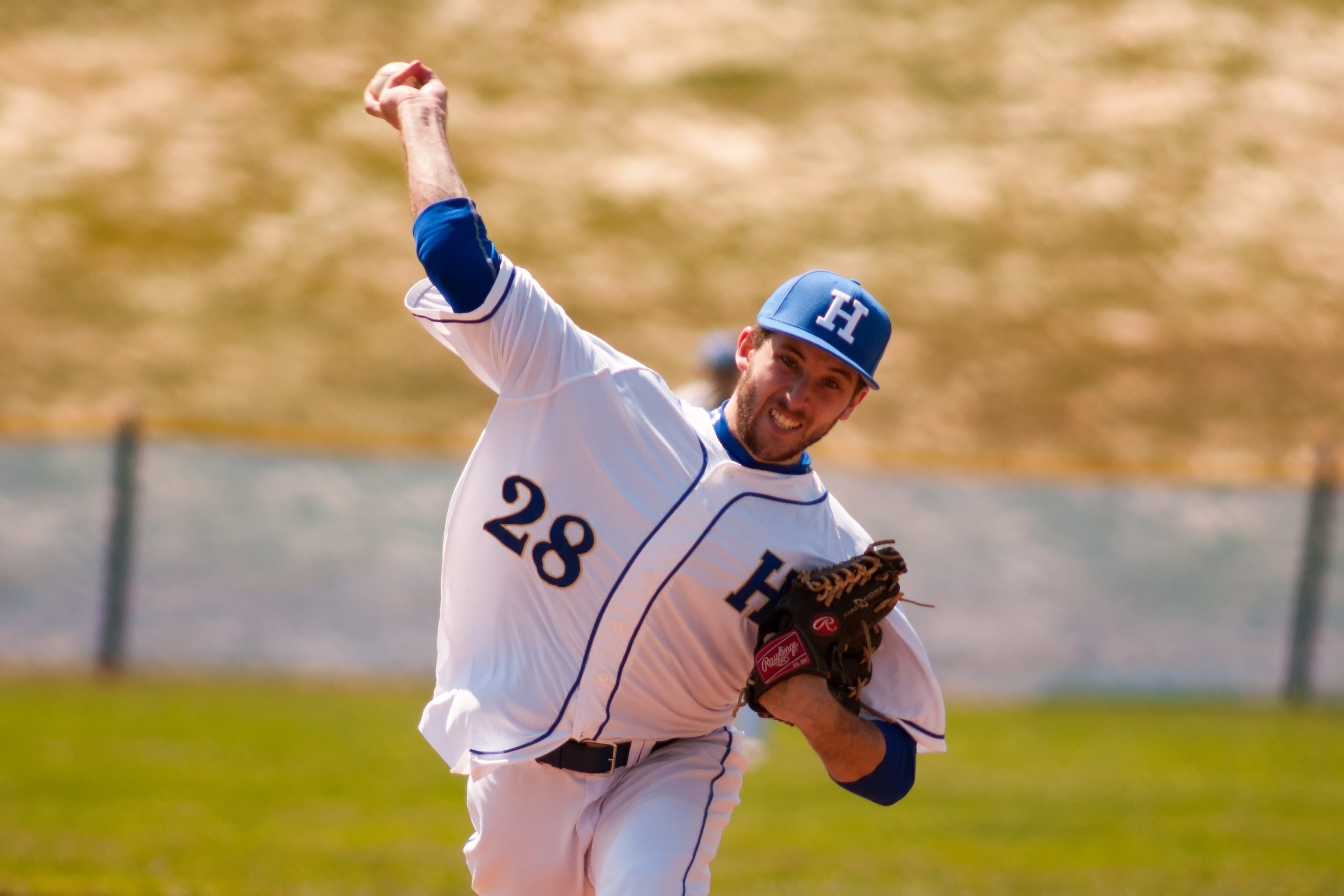 The Hamilton College baseball team split a NESCAC West Division doubleheader with visiting Williams College on Sunday afternoon, winning the opener 3-1 before dropping the nightcap 10-9.

Game one box score | Game two box score

The Continentals (13-10, 4-5 NESCAC West) stole 17 bases without being caught, setting a school record with 11 steals in game two.

Cole Dreyfuss '16 threw a complete-game five hitter in the opener, improving to 5-1 on the season. He struck out five and held the Ephs (10-16, 4-8 NESCAC West) scoreless over the final four innings. Dreyfuss lowered his ERA to 1.56, taking over the NESCAC lead.

The Continentals needed just four batters to take a 2-0 lead in game one, then made those runs stand up behind Dreyfuss' first complete game. Joe Jensen '15 led off with a first-pitch infield hit and three pitches later had stolen second and third. He finished with five steals on the day, raising his season total to 21 and extending his school career record to 75. Jensen scored on a single by Kenny Collins '17 and after the Ephs turned a double play, Hamilton doubled its lead on a home run by Andrew Haser '17. Haser's home run was his team-leading third of the season.

Williams got on the board in the third on a leadoff home run to left by Nathan Michalski '17.

Hamilton pushed across an insurance run in the sixth after Chris Collins '17 led off with a single and stole second. He scored on a single to right field by Tyler Reinhold '15.

Williams brought the tying run to the plate in the top of the seventh when Adam Regensburg '18 reached on a one-out infield error, but the Continentals turned a double play behind Dreyfuss to end the game.

Jack Roberts '17 had two of Williams' five hits. Kenny Collins and David Rose '16 both had a pair of hits for Hamilton.

In game two, the Continentals rallied from an 8-2 fourth-inning deficit to tie the game before the Ephs scored the winning run with two outs in the top of the ninth. Michalski doubled with one out in the ninth and scored the go-ahead run on a pinch-hit double by Regensburg.

Hamilton put the tying run on base in the bottom of the inning when Kenny Collins singled to right for his fifth hit of the day, but Jacob Slater '15 – Williams' fourth pitcher – finished his 1.2 innings of one-hit relief by picking up his third strikeout to end the game and improve his record to 3-1.

Jensen and Chris Collins helped spark Hamilton's rally; Jensen hit a two-run single in the fourth and Collins doubled home a pair of runs two innings later.

Roberts was the prime reason Williams scored seven runs over the third and fourth innings. He hit a solo home run in the third to put the Ephs ahead for good and capped the visitors' five-run fourth with a grand slam. Adam Dulsky '18 drew a four-pitch walk after Roberts' grand slam and scored two batters later on a single to left by Phil McGovern '15.

Hamilton started its rally in the bottom of the inning when Chris Collins beat out a leadoff bunt. A single by Rose and a walk to Brett Mele '17 loaded the bases and Reinhold brought home a run with a sacrifice fly. After Rose and Mele moved up a base on a sacrifice bunt, Jensen laced a single inside third base to score two runs and pull Hamilton to within 8-5.

The Ephs tacked on a fifth-inning run when Jackson Parese '17 walked, stole second and scored on a single by Lev Schechter '18. The Continentals tied the score with four sixth-inning runs. Jensen started the rally with a one-out double and singles by Kenny Collins and Wolfsberg loaded the bases. Haser walked on four pitches to bring in a run and Chris Collins singled to left center to cut the Williams lead to a run. Hamilton tied the game on a single by Rose.

Hamilton put runners in scoring position in the seventh and eighth; Jensen singled with one out in the seventh and stole second before Kenny Collins beat out an infield hit and stole second. The Ephs got out of the inning with a ground ball out. An inning later Rose dropped a double just inside the left-field line with one out. Williams brought in Slater, who retired the next two batters to get out of the jam.

McGovern had three hits for Williams with Roberts, Parese and Kirby Neuner '15 adding two each.

Jensen, Rose and Kenny Collins had three hits apiece, and Rose's total was a career high. Both Kenny and Chris Collins posted career-best totals of three stolen bases. Jensen also stole three with Zack Becker '16 and Wolfsberg contributing one steal each to the Continentals' record total.

Daniel DePaoli '18 helped keep Hamilton in the game, fanning five Ephs while throwing three innings of three-hit relief.

The Continentals are scheduled to play a 4 p.m. non-league game at Utica College on Tuesday, April 28. Williams hosts Rensselaer on Tuesday.