Hamilton Stands With Boston Marathon Relay Today
---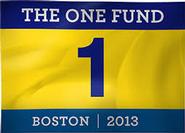 Hamilton Stands With Boston, a marathon relay to support the victims of the Boston Marathon bombings, will take place today, Friday, May 3, from 4-8 p.m. on Pritchard Track, Love Field.
The event was organized by Director of Computer Science Laboratories Jerry Tylutki, who ran the Boston Marathon on April 15. "I wanted to give Hamilton a chance to show their support for their friends and family from the Boston area… to show how strong the human spirit can be, to stand up and support each other in times of need," said Tylutki.

"I hope this proves me right. I hope we have an overwhelming show of support today and that Hamilton College shows its true colors," he remarked. Between 90 and 100 participants are already registered.
Tylutki, an avid runner, was on his way back home from the Boston Marathon when the bombs exploded. "On the way home I received a phone call from campus safety here asking if I was okay. I don't know how they even knew I was in Boston, and it didn't really matter," he said. "It was amazing the sense of community one phone call could give me."
Those interested can register here or walk-ins are welcomed. Participants can walk or run one lap and donate to The One Fund. It won't take long - the total time commitment could be as short as 15 minutes, and that includes registering and walking a lap, said Tylutki. The first 200 people will receive a free tee shirt.
The relay is sponsored by the Student Activities Office and the Computer Science Department.