Conversation with Paul Moakler '10
---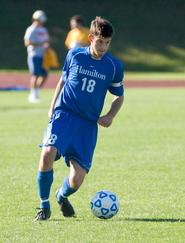 This is the second installment in a series of interviews with Hamilton College student-athletes. Paul Moakler '10 is a captain and three-year starter for the men's soccer team. He has scored four goals and assisted on six others in 56 games, including 40 starts. At the time this article was posted, Hamilton was in the midst of a four-game win streak, and making a strong push to return to the Liberty League tournament in November.

Q. Tell us a little bit about where you grew up.
A. I was born in the city of Syracuse but moved to Cicero, a town outside the city, when I was about 6 years old. What a move to the suburbs meant for me was a backyard finally big enough to house a soccer goal, so needless to say I was pretty pleased.

Q. Did you play any other sports before you came to Hamilton?
A. As a senior in high school I took up tennis for a second sport. I had never really played on a serious level but for me it was a good way to remain active and fit while I waited to come here and start my new soccer career.

Q. What was it like playing soccer for Cicero-North Syracuse and in the Syracuse area?
A. Soccer has always been a popular sport in Central New York and there is a lot of talent that comes from the area. Playing for and against teams like the Syracuse Blitz or Rochester Rhinos introduced me to intense competition at a young age, which I believe is incredibly helpful for a player. Likewise, playing for a big school like C-NS really helps develop a player because of the competition you face each and every day. I'll never forget walking down to our field under the lights, getting ready to take on one of our rivals like Liverpool or Fayetteville-Manlius. It was a lot of fun.

Q. How did you get interested in soccer?
A. Soccer has always been a huge part of my life. From day one I had a little soccer ball in my crib and when I was able to walk the training began. No other sport in the world evokes passion from the players, fans and coaches like soccer does.

Q. Your uncle, head coach Perry Nizzi, has been at Hamilton since 1998. Was it always understood that you were going to play college soccer here?
A. I was always pretty sure that I would play soccer for my uncle. Coach Nizzi was an incredible player and his coaching accolades speak for themselves. It was a dream of mine to play for him and the thought of it provided me with a lot of motivation to continuously improve my game and my grades. Especially when Coach came to Hamilton from Herkimer County Community College, I guess you could say that day really influenced my future.

Q. What are the positives and negatives of a family member also being your college coach?
A. I wouldn't say there are any negative aspects to having my uncle as a coach. He certainly pushes me to be a great player because he knows that I can be, but I would expect that of any coach. Coach Nizzi knows me pretty well and can tell when I'm giving it my all or lacking on certain days. Because of that, I'm always trying to stay on top of my game and be the best player I can be.

Q. You have been a regular starter since your sophomore year. Has your role within the team changed since you were selected as a team captain prior to this season?
A. I've always tried to be a leader on and off the field no matter what role I have on the team. Being a captain brings a little more responsibility in the locker room whereas before I usually let my play talk for me. Fortunately, we have three other great captains and a ton of seniors this year, and that really relieves the pressure from any one person.

Q. The team made the NCAA tournament your first two years here, but missed out on the postseason altogether last year. What will it take to get back to the league tournament and perhaps the NCAAs?
A. Leadership. Like I said, we're lucky enough to have 10 seniors who have also been to the NCAA tournament and know what winning a conference championship takes as a team. Our coaches will always put us in a position to win games so it's up to us to make sure that we execute on the field and develop strong bonds off the field. I really like the way this team has come together and is continuously getting stronger every day.

Q. What's your favorite Hamilton men's soccer moment up until today?
A. Winning the 2007 conference championship at St. Lawrence. Without a doubt that has been the most incredible experience I've had as a Hamilton soccer player. Being a part of the team that went up there not expecting to do a whole lot after we snuck into the conference tournament, and then beating Union in the first round before finally holding off St. Lawrence on their field was just incredible. After last weekend I believe our record on that field over the last four years is 3-0, which is pretty spectacular. I have a lot of great memories on that field.

Q. What led you to become a communication major?
A. A lot of it has to do with being an athlete. You have to be an effective communicator on and off the field, especially as someone who is considered a leader on the team. It's important that your teammates are responsive to you and vice versa, so I believe that there was no other choice but communication for me. Plus, I'm just not much of a science or math guy. Those two subjects tend to go over my head a bit.

Q. Do you have a favorite class or professor at Hamilton?
A. I've really enjoyed all my communication studies courses that I've taken so far and every one of the professors is great in their own way. All of them extremely helpful. If I had to pick one class and one professor though, I really enjoyed the course Persuasion, which I took my sophomore year. It was taught by a visiting professor, John Adams, who I believe is now teaching at Colgate University right down the road.

Q. What will Paul Moakler be doing five years from now?
A. Good question. Maybe I'll be working at home in Syracuse, maybe I'll move to a bigger city with more opportunity. Who knows, there's even a chance you'll find me in Florence, Italy, where I studied abroad a semester ago. Right now I have no idea what the future holds for me. I have too many goals that I've yet to accomplish here on The Hill. Get back to me after commencement in May.