Hamilton Students Encourage Writing, Imagination at Tradewinds
---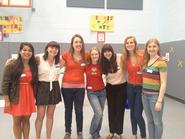 Seven Hamilton students are winding up their semester volunteering at Tradewinds Education Center of Upstate Cerebral Palsy, which serves students with behavioral and developmental disabilities.

Anna Paikert '13 began helping at Tradewinds last summer as part of her Emerson project; she designed a literacy program in which Tradewinds students participated in interactive reading activities and created their own books by the end of the summer. In the fall, she worked with two other volunteers-- Genevieve Nierman '13 and Wynn Van Dusen '13 -- and they created a quilting project for the Tradewinds students.

This semester, Paikert recruited more volunteers and they worked on a play with the students. "We worked with four classes at Tradewinds' Utica campus and helped the students develop their imaginations," said Paikert.
"The students created characters, helped write the play, and performed it on May 3. According to Paikert "they did a wonderful job with the help of supportive and passionate volunteers." Other Hamilton volunteers were Ana Hernandez '16, Emma Bowman '15, Hannah Achorn '16 and Abigail Quirk '16.

The Tradewinds group is an official organization affiliated with Hamilton Association for Volunteering, Outreach and Charity (HAVOC).