Hamilton Surpasses Country Pantry Easter Ham Fundraising Goal
---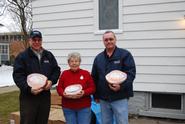 The Greek Philanthropy Union, Physical Plant, and the greater Hamilton community surpassed their fundraising goal and raised enough funds to purchase 130 Easter hams and donate $325 for more groceries for the Country Pantry in Clark's Mills.
The Country Pantry is an ongoing ecumenical activity of 11 churches in the Clinton–Clark Mills–Westmoreland area. The Pantry's mission is to provide supplemental food and related items on a monthly basis to qualified needy families and individuals residing in the nearby area. The Pantry, whose storage and distribution facility is located at Annunciation Church in Clark Mills, is supported by volunteers and ongoing donations of food and money from area churches.
.
The ham fundraiser idea came from Physical Plant employees, who thought it would be nice if the families supported by the Country Pantry could have an Easter ham to celebrate this time of the year. Terry Hawkridge, Assistant Director, Grounds Horticulture and Arboretum, and COOP Director Amy James worked with Hannaford to obtain $10 hams. James engaged COOP senior fellows who set up an online contribution network for the campus community to contribute. The Country Pantry estimated125 hams would be enough to feed 165 families, so the fundraising goal was set at $1250.
Hamilton has helped them out in the past with Cram & Scram donating the unopened food left behind in the rooms, and with the annual Christmas food drive at Physical Plant and the Administrative & Finance Group.

Sam Hutchinson '13 from Greek Philanthropy Union held a raffle of four tickets to "Basenectar's" concert in Rochester with limo ride. The Physical Plant philanthropy network engaged and Maintenance and Operations employees were generous.