Hamilton, Clark victorious to open men's basketball Tip-Off Tournament
---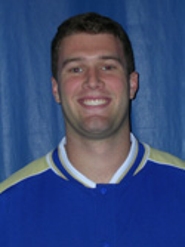 Pat Sullivan '12 hit a 3-pointer with seven seconds remaining to lift Hamilton College to a 69-66 win over Bridgewater State University in the second game of the Hamilton Tip-Off Tournament at Margaret Bundy Scott Field House on Nov. 18. Four Clark University players scored in double figures to lead the Cougars to an 86-70 win over SUNY Institute of Technology in the tournament opener.

Hamilton and Clark will play for the tournament title on Saturday, Nov. 19, at 4 p.m., and SUNYIT will take on Bridgewater State in the consolation game at 2.

Sullivan finished with 14 points and five rebounds for Hamilton (1-0 overall). Bradley Gifford '15 was 4 of 6 from behind the arc in his first collegiate action, and finished with 14 points off the bench. Gifford also recorded a game-high four steals. Matt Dean '14 chipped in 12 points to go along with five boards.

Samuel Johnson '12 led a balanced scoring attack for Bridgewater State (1-1) with 12 points. Shawn Yard '13 added 10 points to go with a team-high three assists and a pair of blocks.

Bridgewater State shot better than 56 percent from the floor in the first half, and held a 35-33 lead at the break. The Continentals opened the second half on a 17-7 run to take a 50-42 lead with 12:19 left. Bridgewater State tied the score twice down the stretch but never led again.

D.J. Bailey '12 led Clark (1-1) with 15 points on 7 of 9 shooting from the floor. Mitch Renshaw '12 chipped in 13 points to go along with a team-high eight rebounds for the Cougars. Brian Vayda '12 scored 12 points and pulled down seven boards, while Tucker Esborn '13 poured in 12 as well.

Derek Rowe '13 led SUNYIT (0-1) with 20 points and eight rebounds, and Yhashin White '13 chipped in 18 points on 3 of 4 shooting from behind the arc. T'Andre Richardson '15 added 12 points for the Wildcats.

Clark shot better than 55 percent from the field in the first half, while holding SUNYIT to 30.3 percent, and the Cougars held a 45-23 lead at the break. The closest SUNYIT got to Clark in the second half was the final 16-point margin.