Hamilton to Observe 9/11
---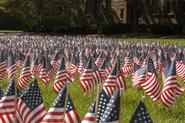 Hamilton College will observe the 10th anniversary of the September 11 terrorist attacks that took close to 3,000 American lives, with events on Sunday, Sept. 11. The College will honor the memory of Arthur J. Jones III, '84, Adam J. Lewis '87, and Sylvia San Pio Resta '95 – Hamilton alumni who tragically lost their lives in the attacks on America. The College community will come together to remind each other of the loss and the challenge that day continues to present. The public is invited to attend.
Sunday, September 11

9 a.m. – Students from the Hamilton College Democrats and Republicans will place 3,000 small memorial flags along Martin's Way, lining the pathway of an afternoon vigil march.

10:29 a.m. – The Chapel bells will be rung for 5 minutes, at the time of day that the north tower of the World Trade Center collapsed.

4 p.m. – A Chapel Service will include music by the Chapel Choir and Roxanne Bellamy Campbell, adjunct chaplain for Multicultural Communities. A commemorative video of some images of 9/11 accompanied by the song "I Wish We'd All Been Ready" will be shown.

6 p.m. – Candlelight Vigil Service. Participants will meet at KJ Commons, where members of the College Choir and various a cappella groups will help lead singing, under the leadership of Gabe Mollica '14. The group will march silently along Martin's Way to the Chapel steps, where reflections and music will be offered. Reflections will be written on a "memorial wall" by the Chapel steps, including naming the three Hamilton alumni who died on September 11, 2001.