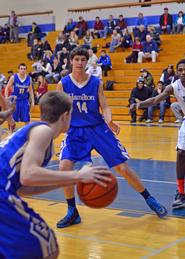 The Hamilton College men's basketball team opened the new year with a 68-58 non-conference win over host D'Youville College on Friday night in Buffalo.

Box score

The Continentals, who improved to 9-2 with the win, pulled away from a 27-25 halftime lead. The victory was their second in as many all-time meetings with D'Youville.

Joseph Lin '15 was Hamilton's top scorer for the second game in a row with 18 points. He made seven of his 10 shots from the floor and added six rebounds and three assists.

The Continentals outscored the Spartans 41-33 in the second half, making 54.2 percent of their field goal attempts. Hamilton owned a 19-9 rebounding advantage in the period. In the first half there were 13 lead changes with the last coming on a layup by Hamilton's Kyle Pitman '17 with 2:15 left.

Ajani Santos '16 and Peter Kazickas '15 opened the second half with baskets to put Hamilton up by six points. A Kazickas layup 5:12 into the half stretched the Continental lead to 41-32 before D'Youville rallied with 12 straight points. Julian Reed '15, who finished with 13 points, made layups on consecutive possessions to give the Spartans (3-8 overall) their first lead in over 12 minutes at 44-41.

Pitman tied the score with a 3-point basket and Carlos Fineman '17 converted a pair of free throws with 8:40 left to put Hamilton ahead for good. Marcus Clarke '16 made a 3-point basket with 4:46 to go to pull D'Youville within 55-51 but the Continentals scored 13 of the next 15 points to seal the win. Santos netted five of his eight points in the run.

Clarke scored a team-best 15 points for the Spartans. Reed led D'Youville with six rebounds and five blocked shots.

Fineman and Pitman scored eight points apiece as Fineman matched a career high. Santos and Karl Koster '18 both pulled down six rebounds.

Hamilton continues non-league action on Sunday, Jan. 4, traveling to Hobart College for a 4 p.m. contest. The Spartans return to conference play on Wednesday with an 8 p.m. game at Medaille College.