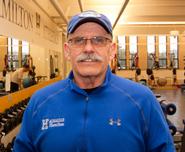 Paul Adey, the Hamilton College department of athletics strength and conditioning coordinator, will be inducted into the Rome Sports Hall of Fame with the rest of the hall's class of 2014 during the 38th annual ceremony at the Beeches on Sunday, July 27.

Article from the Rome Sentinel

Adey grew up in Rome, N.Y., and went to Rome Free Academy, where he enjoyed successful playing and coaching careers with the Black Knights' legendary football program. He was a three-sport athlete at RFA.

Adey joined the Hamilton football coaching staff in 1984 and was an assistant for more than 25 years with the Continentals. He currently oversees all aspects of strength and conditioning for more than half of Hamilton's 29 men's and women's varsity intercollegiate programs.