Hamilton's Ma Rainey Takes Show to Edinburgh Fringe Festival
---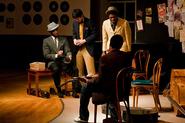 A group of Hamilton students, alumni and Associate Professor of Theatre Mark Cryer, are taking their show on the road as they prepare to perform
Ma Rainey's Black Bottom,
by August Wilson, at the Edinburgh Fringe Festival on Aug. 11-22. The cast performed
Ma Rainey
for Hamilton's annual Martin Luther King Day celebration in January. Follow the group's trip and performances at their
blog.
The students involved are: Sarah Kane '12, assistant director; Katherine Watson '12, stage manager; Kadhaj Bennett '12, Levee; Christian Baxter '10, Toledo; Miguel Rosado '11, Slow Drag; Anthony Mathieu '12, Cutler; Ryan Park '12, Irvin; Adam Bauer '10, Sturdyvant; Laura Lee Smith '11, Dussie Mae; Isidro Acosta '11, Sylvester; Ileana Beccera '11, Ma Rainey; and Gabriel Hage '12, police officer.
The trip and performances are supported by the Dean of Faculty, President's office, and Theatre Department.
According to its website, "The Edinburgh Festival Fringe is the largest arts festival on earth, an inspiring celebration of the best performance and entertainment emerging from every continent of our planet. We are an open-access festival; our programme includes anyone with a show to present and a venue willing to host them. The Festival Fringe Society does not produce any shows, invite anyone to perform, run any venues or pay any fees to artists, and no single individual or committee determines who can or cannot perform at the Fringe. Participation relies entirely on the initiative of thousands of performers who chose to put a show at our festival every year."