HamTrek Turns 10
---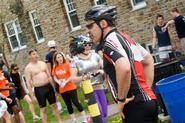 HamTrek, one of Hamilton's most popular campus events, celebrates its 10th anniversary this year on May 3. The annual triathlon and walk offers Hamilton community members the opportunity to compete individually or as part of a three-person team in swimming, on-road biking and cross-country running.

Dave Thompson, Hamilton's Campus Wellness director, said the idea for HamTrek originated with a group of students led by a soccer player Liz Roberts '06. "She brought the concept to then intramural director T.J Davis and her coach, Colette Gilligan," Thompson explained. "The vision was supported by a variety of faculty and staff. We hoped to rekindle the tradition of a field day-like event on Class and Charter Day."

This year is the first time that HamTrek will not be held on Class and Charter Day, giving more people the opportunity to participate. Thompson noted that move has resulted in the event's first "sell-out."
HamTrek has evolved over the years. Thompson said there are more students participating and it has more sophisticated timing and organization. He loves the fact that "People get out of their comfort zone and a lot of novices are trying something challenging for the first time."

Prizes will be awarded to the top six female and top six male individuals, as well as the top female, male and coed teams. Teams are composed of three people in any combination of faculty, staff, students, alumni, family and administration. There are also prizes for the best themed team as represented by their outfits.

"For many, once they've done it once, they're hooked," Thompson remarked. "Some students go on to become recreational triathletes after they leave Hamilton."

HamTrek starts in Bristol Pool and finishes in the field behind the fitness center. As a sprint triathlon the distances will be shortened from normal triathlon distances to 525 yds of swimming (21 lengths in the pool), 9 miles of on-road biking (two times around the Griffin Road loop) and 5k of cross-country running (the cross-country course). The whole event takes place on the Hamilton campus and surrounding roads.

Having HamTrek on the calendar "provides a fitness/training goal for students, faculty and staff for the end of the semester," Thompson added.

HamTrek is also philanthropic. Participants are encouraged to collect donations to benefit the Shawn Grady Memorial Fund. The Fund is a non-profit/tax exempt organization devoted to helping local families who have children with life-threatening illnesses. It was established in memory of Shawn Grady, an outstanding athlete who was diagnosed with cancer in the fall of his sophomore year.

Thompson concluded, "It's a great spectator event, plus the partnership with the Shawn Grady Fund, the integration of student, faculty staff and their families, along with the greater community is so important. It's emerged as one of the best community events all year. People genuinely look forward to it!"