Hip-Hop Gives Voice, Says Black History Month Speaker
---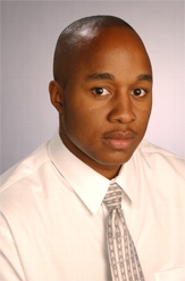 "Hip-hop saved my life. It has saved many lives. It kept me focused and driven to move beyond my circumstances," said Don C. Sawyer III, the director of the Louis Stokes Alliance for Minority Participation, instructor at Syracuse University, and this year's Black History Month keynote speaker.
As part of his doctoral dissertation, Sawyer has investigated "the social and academic experiences of 20 African-American males in an urban dismantled high school who identify as 'lovers of hip-hop' and are often perceived as anti-intellectual."
"I'm from Harlem myself," said Sawyer, "before Bill Clinton moved his office into the neighborhood, before Disney, before H&M, before Starbucks." Sawyer's parents were both high school dropouts; for a time the family lived on welfare in the Abraham Lincoln projects. Sawyer grew up during the crack-cocaine epidemic that ripped through Harlem during the 1980s and early 1990s. "When I see young black boys wandering aimlessly in the streets, I see myself. And when I see young black men being killed in the streets, I see myself," he said. "A lot of my friends went upstate to prison, instead of to college."
Life in such an under-served community was by no means easy, but Sawyer made clear on the significance of hip-hop on his academic and emotional growth: "hip-hop was my voice, my culture. While other people were on the streets, I was writing rhymes," he said. "Hip-hop offered me a counter space of resistance."
Originating in the post-industrial south Bronx, hip-hop was one response to social ramifications of urban decay. "It has musical, linguistic, and cultural roots that go beyond the US and was born out of struggle in a time of economic and social ruin," said Sawyer. Since its inception, however, hip-hop has been largely blamed by mainstream society for fostering perceived anti-intellectualism among minority youth.
Sawyer explained that this popular argument is misguided; it actually "removes the focus from the educational and social systems that have repeatedly failed students," he said. "The use of hip-hop as a scapegoat is problematic when we consider the fact that these young men in urban settings are facing poverty, lack of access to quality health care, and hyper-surveillance by police."
Sawyer said that many of the students with whom he had conducted research (and who had been deemed academic "problems" by administrators) explained that hip-hop functioned, if anything, as a coping mechanism. One student, while pointing to the ear buds hanging from his sweatshirt, had said: "I listen to music all the time." Another said: "rapping keeps me from going crazy." Many expressed frustration with their school environments and the treatment of students at the hands of adults; they felt that the unspoken consensus was that "you're a bad student until proven otherwise."
"These students lack power in the educational space," said Sawyer. "But still they are agents of choice concerning their personal liberation and destiny. They are using hip-hop culture as a means of resistance... And this place of resistance allows oft-silenced youth to analyze and critique their unjust lived realities in an attempt to create a better and more democratic society."