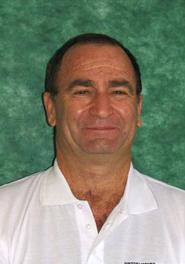 Historical geographer Professor Haim Goren of Israel will present the Couper Phi Beta Kappa Library Lecture at Hamilton College on Wednesday, Sept. 24, at 4:10 p.m., in the Red Pit, KJ. Goren will speak on "Edward Robinson: 'Father of the Scientific Study of the Holy Land.'" Robinson is an alumnus of Hamilton's class of 1816. The lecture is free and open to the public.
Goren was until recently vice president for academic affairs of Tel-Hai Academic College, Upper Galilee, Israel, and chair of the newly-established M.A. program of Galilee Studies. In the lecture he will provide examples of Robinson's historical-geographic innovations, mainly in Toponimy, re-identifying hundreds of places mentioned in the Scriptures and reconstructing the map of biblical Palestine.
This lecture will be given to commemorate the fact that Robinson's archive recently was transferred by Hermine and Walcott-Bartlett Professor of Religion Emeritus Jay Williams to the special collections at Hamilton's Burke's Library.
Goren's main fields of interest include Holy Land pilgrim's and traveler's literature, European activity in Ottoman Palestine and the Near East, and history of the modern scientific study of these regions, currently concentrating on historical-geography and cartography. He earned a bachelor's degree at the University of Haifa, and master's degree and Ph.D. at the Hebrew University, Jerusalem. His books include 'Go View the Land': German Study of Palestine in the Nineteenth Century, Real Catholics and Good Germans': The German Catholics and Palestine, 1838-1910, and Dead Sea Level: Science, Exploration and Imperial Interests in the Near East.
He is editor and co-editor to nine volumes, most recently Palestine and the First World War: New Perspective, London 2014 (with E. Dolev, Y. Sheffy).
This lecture is part of Hamilton's Couper Phi Beta Kappa Lecture series which was established in 2005 to honor Hamilton alumnus Richard "Dick" Couper '44. Couper died in January 2006. The annual lecture recognizes Couper's commitment and contributions to the college and the Phi Beta Kappa Society. Each year a distinguished speaker is invited to present topics related to the college's special library collections or to present an issue related to libraries in general.