Men's Hockey Date Auction Nets $614 for Charity
---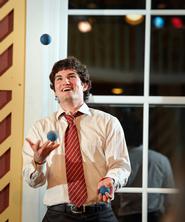 The Social Traditions Committee and the men's hockey team joined forces to host a date auction on Nov. 30 with proceeds going to charity.

The Social Traditions Committee sold dates with 14 players and the assistant coach, raising $614 for the Golisano Children's Hospital in Syracuse. Tara Huggins '14, chair of the Social Traditions Committee, said the auction "exceeded all of our expectations and went incredibly well. The highest bid was for a combination date with two hockey players and sold for $74," she noted.

Golisano Children's Hospital offers a full spectrum of primary and specialized medical care for pediatric patients.

The men's hockey team takes on Trinity in the 2011 Citrus Bowl on Saturday, Dec. 3, at 7 p.m., in Sage Rink. Admission is free and the first 300 spectators will get free foam fingers.