Ice Hockey-Playing Pole Vaulter Hannah Jaiven '14 Sets Record
---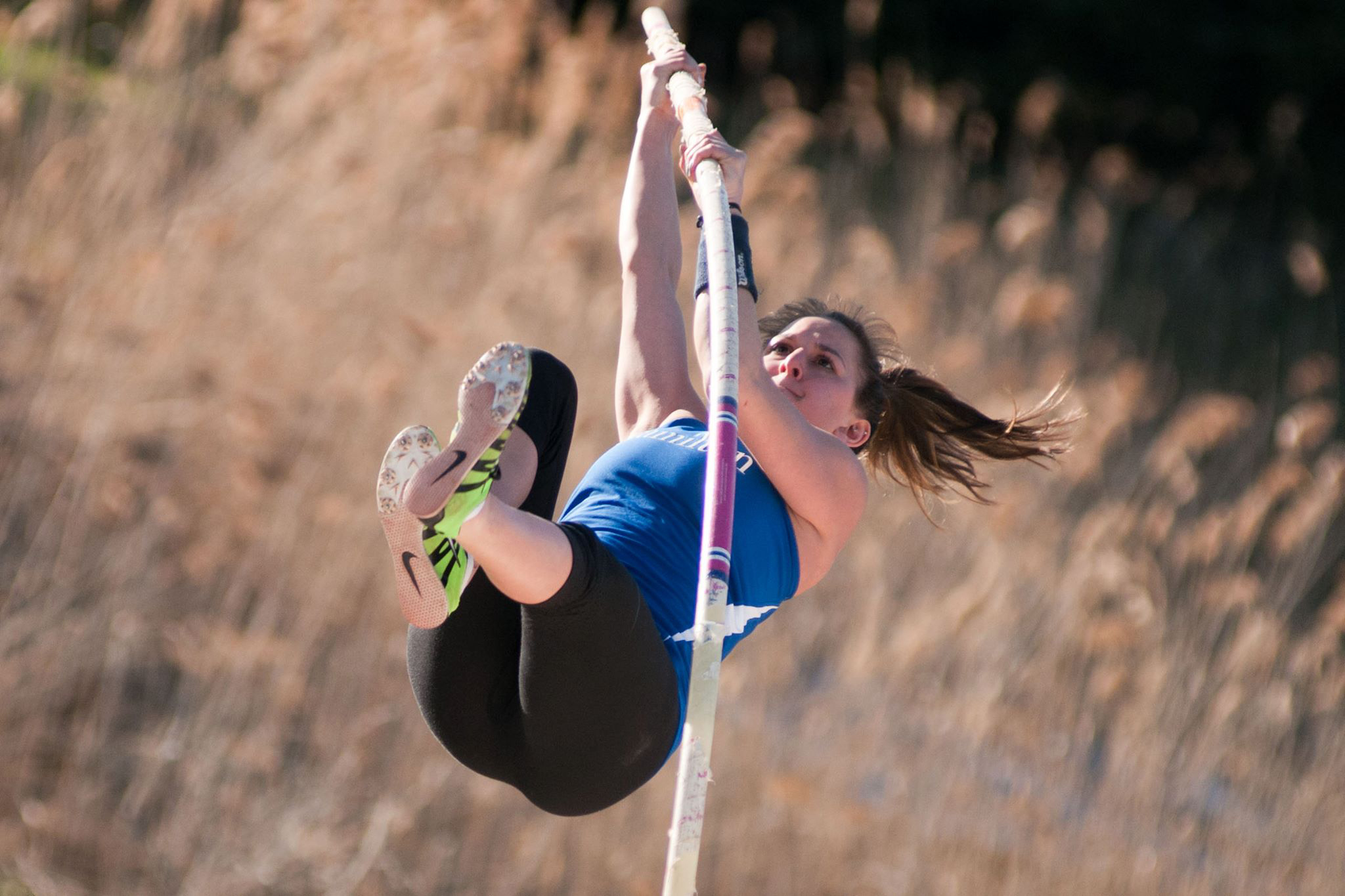 A funny thing happened to Hannah Jaiven'14 on the way to her ice hockey game. She got recruited to join the track & field team as a pole vaulter.
Jaiven recently recalled the chain of events that began in Sage Rink in 2010. "As part of my hockey warm up I would do a series of back flips and other tumbling stunts. The pole vaulting coach noticed my acrobatics and he immediately wanted me to pole vault," she explained. "When I heard the track & field team was interested in me, I was a little surprised, but with my competitive drive for sports I could not pass up the opportunity."
Jaiven's story became a bit more unusual this year when she joined the indoor track & field team, thus competing on two varsity teams during the winter season. That demanding schedule was put to the test on Jan. 18 when she competed in a track and field invitational at nearby Colgate University in the morning, then returned to campus and played in an ice hockey game against Williams College at 3 p.m.
Not only did Jaiven compete in two sports that day, she also managed to break a record. Already the holder of the outdoor pole vault record (3.54 meters), Jaiven set the program's indoor record in the pole vault at 3.40 meters (11 feet, 1.75 inches) on Jan. 18. So far on the hockey team this season she has two goals and four assists in 18 games on defense.
"Competing in two varsity sports during the same season is not easy," Jaiven concedes. "The sports individually take up an enormous amount of time, so doing both simultaneously is time consuming. However, it's manageable," she says, "and I wouldn't have it any other way because I love these sports more than anything."
She says her biggest challenge is planning. "I have to consider all my classes in a week, the time I need to spend in lab for my thesis, homework and all the time I will be at both sports practices and games. With all these obligations it just means I have to be efficient with my time," she explains. Jaiven is a Dean's List chemistry major from Holland, Mich.
Jaiven said she learned effective time management when she was in high school. " I played club ice hockey three hours from my house and made the commute 4-5 times a week," she recalled. "During the commute I would do homework and sleep because that was the only time I had that was not at school, practice or games. I also played lacrosse in the spring."
Although her schedule has been demanding the past four years, Jaiven said she has no regrets. "At the end of the day, you have to do what makes you happy and for me that was through competitive sports," she remarked. "I'm very thankful that I have been given the opportunity to do all the things I love, ice hockey and pole vaulting. Not many people can say the same."