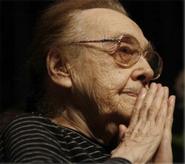 Utican Helen Sperling, a Holocaust survivor and renowned lecturer, will speak at Hamilton College on Monday May 5, at 7 p.m., in the Chapel. The lecture is sponsored by Hillel and is free and open to the public.
Sperling, born in Poland, spent time in concentration camps in Ravensbruck and Buchenwald during the Nazi occupation of Poland. She lost her entire family during the Holocaust and has been speaking publicly about her experience, with the goal of reaching audiences with a message of awareness and action, for more than 50 years.
Following her liberation, Sperling was hospitalized with pneumonia and cancer for nearly three years. Upon her recovery, she immigrated to the United States, where she married Leon Sperling, and the couple adopted two children and settled in Utica.
Sperling has spoken before large crowds at universities, police academies, monasteries and churches throughout the northeastern United States.