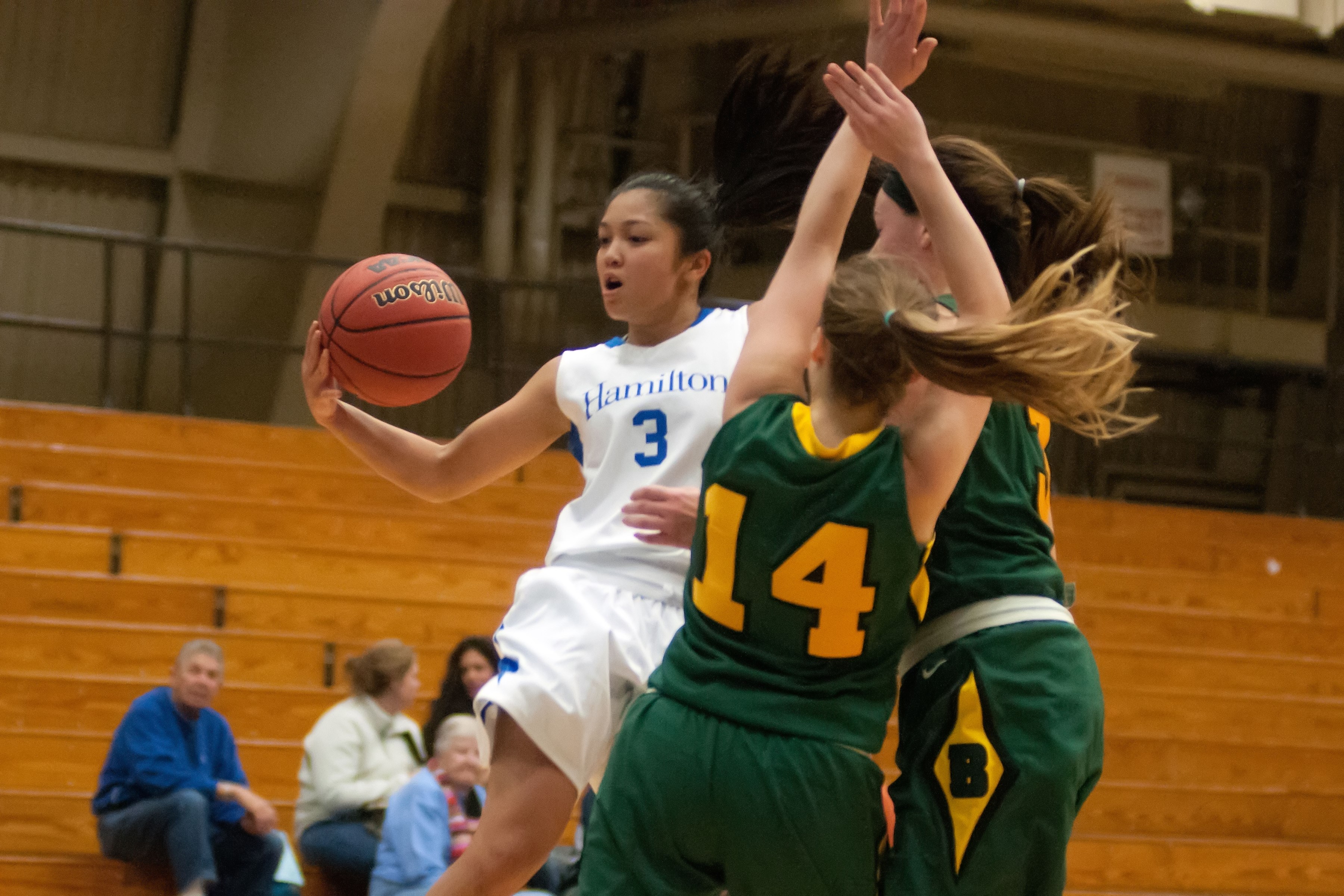 The Hamilton College women's basketball team rolled to a 70-56 win over host Utica College in non-conference action at Utica's Clark Athletic Center on Monday night.

Box score

Sam Graber '16 scored a career-high 32 points to pace the Continentals (4-3), who posted their second straight victory. Graber, the NESCAC's leading scorer at 21.3 points per game, scored 20 first-half points to lead Hamilton to a 45-30 intermission lead. She made eight of 12 shots, including three 3-point baskets, as the Continentals parlayed 59.4 percent shooting from the floor (19-32) to their biggest halftime advantage in 21 games.

Samantha Srinivasan '18 added a season-high 11 points and Lauren Getman '18 led all players with a personal-best 10 rebounds for Hamilton. The win marked Hamilton's seventh over the Pioneers in the last eight meetings.

The host Pioneers (3-3) led for just 22 seconds with Graber connecting for a 3-point basket 1:10 into play after Utica's Mary Miceli '16 opened the scoring with a layup. The Continentals pushed their lead to 10 points just 6:13 in and led by at least seven points for the rest of the game.

Utica used a seven-point run midway through the second half to pull to within 58-51 with 9:29 left. Hamilton responded by scoring 12 of the next 13 points with a jumper by Adrianna Pulford '15 giving the Continentals their biggest lead at 70-52 with 2:05 remaining.

Graber added eight rebounds and Kate Bushell '17 pulled down five, helping Hamilton to a 41-33 rebounding advantage. Caroline Barrett '17 dished out a career-best nine assists and Graber contributed two steals and two blocked shots. Theresa Salud '17 scored nine points.

Christy Traglia '15 led Utica with 18 points and Miceli scored 17. Bridget Greenwald '14, who finished with 14 points, posted team-leading totals of six rebounds and three assists.

Hamilton is back in action on Wednesday, Dec. 3, with a 7 p.m. non-conference game at Union College. Utica hosts Massachusetts College of Liberal Arts on Wednesday night.