Swimming & diving teams participate in "Hour of Power" fundraiser
---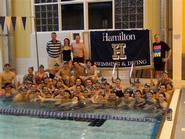 The Hamilton College men's and women's swimming and diving teams participated in the 2011 Ted Mullin "Hour of Power" Relay for Sarcoma Research on Nov. 8.

First held on Nov. 7, 2006, the "Hour of Power" relay is a one-hour practice consisting of continuous relays, using any stroke. The event is held in memory of former Carleton College swimmer Ted Mullin, who passed away from synovial sarcoma, a rare form of soft-tissue cancer, in Sept. 2006.

Hamilton joined thousands of other high school, collegiate and club swimmers across the nation that participated in the event. In 2011, more than 7,200 swimmers from approximately 150 teams are registered to swim the "Hour of Power." The goal of the event is to raise awareness and generate funds for research conducted at the University of Chicago into finding treatments and cures for sarcoma.

Hamilton raised $272 for sarcoma research, and the University of Chicago will match that contribution to support its research efforts. Since 2006, participants have raised over $265,000 for the Ted Mullin Fund for Pediatric Sarcoma Research.