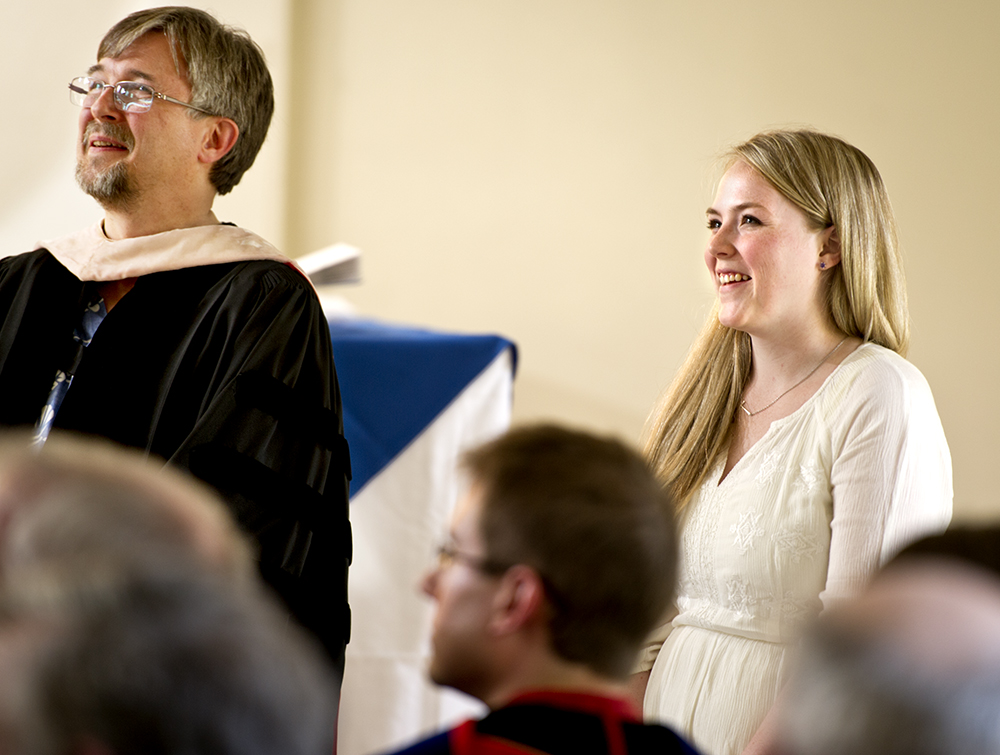 Riley Stepnick '12 was named first-prize winner in the Alumni Relations office College Song contest. Her song, "I Left My Heart on the Hill," won $1500 and was performed for the first time at Class & Charter Day by the Hamilton choir.
Forty songs -- submitted by students, alumni, faculty and staff -- were entered in the competition. Stepnick, who majored in music at Hamilton, is a music teacher at Buffalo Academy of the Sacred Heart.
Peter Mallozzi '09 and Alison McLaughlin '11 wrote the second-prize winner, "Ring the Bell;" and third prize went to Todd Monsell '98 and Jessica LaMantia Monsell '00 for "Hamilton, I Hear You Calling." Two songs were awarded Honorable Mention: "Hamilton, My Hamilton," by Romy Britell and Monk Rowe,and "Hamilton! Hamilton! (Our College on the Hill)" by Alison Loeb '82.
The song contest was the brainchild of Russ Bantham '63, who got the idea at his 50th reunion as he was watching and listening to Doug Sheldon rehearsing the alumni choir in the Chapel. "I wondered how relevant a song about Lord Jeffery Amherst is to students today" said Bantham. "An awful lot has happened at Hamilton (including co-education) since most of the college songs were written. I thought it would be fun to celebrate the college today and wondered if it would be possible to create a new college song to go into the college songbook. The idea of a competition with enough money involved to inspire participation began to grow as I listened to the rehearsal."
Bantham bounced the idea off several classmates who were encouraging and then asked Choir Director Rob Kolb what he thought. Kolb was intrigued and said he would think about it over the summer. Bantham also checked with a number of alumni and recent graduates who thought a competition was a great idea. The project took form in the fall, and after many emails back and forth, the music department and the College worked out the final details.
Bantham said he "will be eagerly waiting to hear the 'world premier' on the Class & Charter Day live feed."
In composing her winning song, Stepnick explained that she "wanted the piece to have a nostalgic feel and I started thinking about all of the things I missed from Hamilton. I think we all miss that wonderful high that Hamilton gives you--the feeling that you can accomplish anything--and I know that I left a little piece of that at Hamilton."
She describes the song style as "that of an ode or a hymn. It is stately and simple," she said, "and evokes the classic tonalities of American song."
The first verse and initial melody took her a few hours to write; the other verses and melody for the bridge took a few weeks. "I knew that I wanted the first line to be 'I left my heart on the Hill...' and set a melody to fit it," she explained. "Both the melody and lyrics came together at the same pace and I filled out the tonalities (chords) later."
While a student at Hamilton, Stepnick was a member of the Choir, College Hill Singers, and Duelly Noted. This is her second year teaching and she'll begin her master's in the fall at Canisius College where she'll be studying education technology and emerging media.
Song contest judges included Bob Kinkel '79, best known for his role as a co-creator/co-producer/co-composer and touring keyboardist with Trans-Siberian Orchestra; John Hadity '83, president of the Hamilton Alumni Association and executive vice president of Entertainment Partners' Financial Solutions; Professor of Music Sam Pellman who co-directs the Studio for Transmedia Arts and Related Studies; Jennifer Potter Hayes K'73; Reunions Baldwin Choir director Doug Sheldon '63; music major alumnus Dave Steadman '03; music major alumna Sarah Ziegler '05; Mackenzie Leavenworth '15, a member of Duelly Noted and the College Hill Singers; and David Tackeff '14, a member of the choir and Hamiltones.

Submissions were blind-reviewed and winners were determined at the discretion of the contest judges based on lyrics, melody and appropriateness of the piece. Entrants were asked to consider a piece that is "singable with a sturdy melody and shows affection for our dear old Hamilton that can be sung in two to three minutes." Submissions by individual songwriters, composer/lyricist pairs, or songwriting teams were eligible.