Creatures of Habitat
---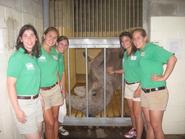 Most children are crazy about animals; aquariums, petting zoos and pony rides are the world's best entertainment for many children. Elizabeth Bucceri '11 gets to spend her summer not only making youngsters happy at one of their favorite places, but releasing her own inner child as she interns at the Philadelphia Zoo. Her internship is supported by the Jeffrey Fund for Science Internships, managed by the Career Center.

The Philadelphia Zoo has long been one of the most important zoos in the United States. First opened in 1874, the Philadelphia Zoo was the first zoo in the country, drawing 228,000 visitors to see its 813 animals in its first year. Today, the Zoo has more than 1,300 rare and endangered animals, and its attendance has swelled to more than one million visitors per year.

The zoo is now an organization involved in animal matters all across the world, taking part in programs concerned with endangered species and conservation. The Philadelphia Zoo is also a strong force in a program called the Species Survival Plan (SSP), which works to help animals of endangered species become reaccustomed to the wild when captive breeding may be their only chance at survival. This ensures that the captive populations remain healthy and genetically diverse.

This summer alone the Philadelphia Zoo has seen several monumental births: a nocturnal lemur called an aye-aye and 10 giant river otters. "Aye-ayes are only found in two zoos around the country, including the Philadelphia Zoo," Bucceri explained, "so having a baby born is a pretty big deal." The Philadelphia Zoo is also the only zoo that has successfully bred one particular species of otters, and almost all the otters of this species in zoos across the U.S. came from the Philadelphia Zoo.

Bucceri is helping run a program called Creatures of Habitat that the Philadelphia Zoo is offering this summer. Four times a day, she mans one of the 10 different stations around the zoo that has a life-size Lego statue of an animal in its habitat, from polar bears on ice to tropical frogs in trees. Besides being attractive to kids, the Legos "remind us how our world fits together and how we connect with it," as the Creatures of Habitat website declares. But the main goal is, of course, to inspire action: "We work at the different stations to try to get guests into conservation and helping the environment," Bucceri said.

Bucceri is allowed to be even more hands-on with the zoo animals; the Philly zoo offers an education program to which she contributes by bringing reptiles out for the public to see.

Finally, the internship gives Bucceri the opportunity to work on her own project. "We specially researched animal behaviors and picked a species or two and a hypothesis to test by observation," she explained. Bucceri is observing the Amur Tigers to observe if behaviors change with different weather conditions—a rare observation opportunity that she would not have with tigers in the wild, or maybe even not at another zoo.

"I have found that this experience has opened my eyes to different opportunities I have in the animal field once I graduate," Bucceri observed. Besides learning "a tremendous amount of information about different animals that I never knew before,…the internship has allowed me to make contacts and talk to people in the animal world that I wouldn't normally get to do." Because of her experience at the zoo, Bucceri is considering a career in veterinary science upon graduation.

Bucceri's internship is made possible by the Jeffrey Fund for Science Internships, which supports full-time, off-campus internships related to science.

Bucceri graduated from the Loomis Chaffee School in Windsor, Conn.