Interdisciplinary Group Receives NSF Grant to Extend Hamilton Scientific Computing Resources
---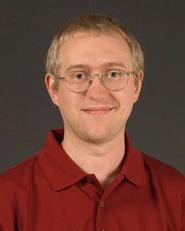 A group of four Hamilton faculty members has been awarded a grant of $177,950 through the National Science Foundation's (NSF) Major Research Instrumentation (MRI) program to fund a shared-use state of the art computing cluster. The project, titled "MRI-R2: Acquisition of a High Performance Computing cluster with a fast interconnect to enable shared-use, college-wide computational investigations at Hamilton College" is led by Assistant Professor of Chemistry Adam Van Wynsberghe as principal investigator with Assistant Professor of Biology Wei-Jen Chang, Assistant Professor of Physics Natalia Connolly, and Assistant Professor of Anthropology Nathan Goodale contributing as co-principal investigators.

The cluster will primarily support the four faculty's research programs: Van Wynsberghe is investigating enzymatic catalysis in RNase A and drug-target interactions of influenza neuraminidase; Chang is probing the evolutionary biology of eukaryote supergroups; Connolly is studying the nature of Ultra-Luminous Infra-Red Galaxies; and Goodale is examining social networks through an analysis of projectile points and gravestone raw materials.

The expansion of the computing resources will also allow greater access to computational tools for curricular projects. In addition, the cluster will be available to Hamilton community users. Interested parties should contact either Van Wynsberghe (avanwyns@hamilton.edu, x4304) or HPC System Administrator Steve Young (slyoung@hamilton.edu, x4745).

This award is funded under the American Recovery and Reinvestment Act of 2009.