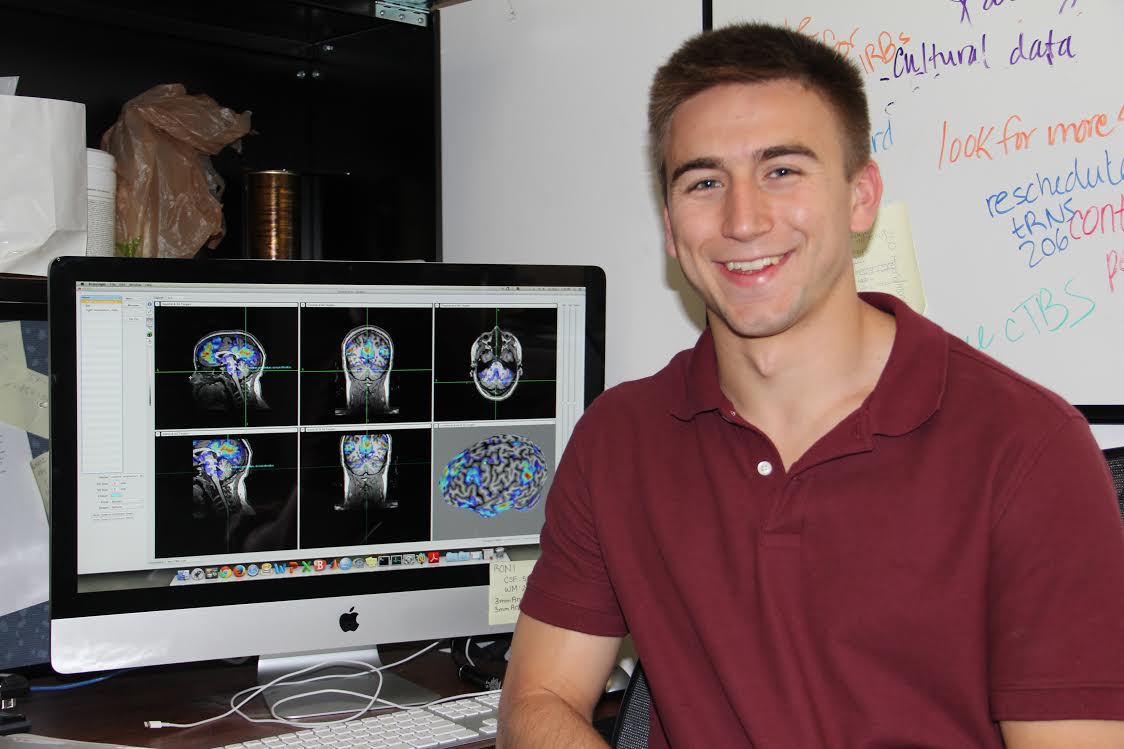 Alex Mitko '16 this summer is taking the principles he's learned as a neuroscience major at Hamilton into an internship with the Boston Attention and Learning Lab (BAL Lab), a cognitive neuroscience lab located in the Veterans Affairs Hospital in Jamaica Plains, Boston. The BAL Lab conducts research that focuses on "the cognitive and neural mechanisms of attention, as well as the potential for enhancing attention abilities through cognitive training."
Through previous research with Assistant Professor of Psychology Alexandra List, Mitko had collaborated with Dr. Michael Esterman, one of the co-founders of the BAL Lab, through whom he was able to acquire his position this summer. Mitko secured funding for his internship from the Jeffrey Fund Science Internship Fund managed by Hamilton's Career Center.
Mitko is involved in multiple studies exploring sustained attention, primarily working on two particular projects, one utilizing Transcranial Magnetic Stimulation (TMS) and another making use of electrical stimulation to the brain. Both techniques represent noninvasive brain stimulation techniques that are safe to perform on human participants, enabling the lab's researchers to examine a given subject's performance in a number of cognitive tasks.
In addition, Mitko been responsible for analyzing data collected from thousands of participants around the world that elect to completed one of the lab's "sustained attention tasks" online. "I've been able to help out in the analysis of some fMRI (functional magnetic resonance) scans," he explained, "and we are starting some work on studies with patients that exhibit hemi-spatial neglect, a spatial attention disorder."
Mitko claimed that this internship has been valuable for the hands-on opportunities that it has offered. "My experience at the (BAL) Lab has been incredibly engaging because every day I get hands-on experience with neuroscience techniques that previously I have only read about in textbooks," he claimed. "It is inspiring to see how the things we learn in classes at Hamilton are applied to real-world research."
These skills that he has acquired and honed will be profitably employed, he claimed, saying that both in the classroom and in the context of his upcoming senior thesis this experience will continue to provide a reference-point for future work. "Working in the BAL lab has helped me learn how to effectively work in a research team in order to accomplish a shared goal, and I'm eager to apply the skills I've learned over the summer when I work on my senior thesis."
Beyond that, Mitko said that his experience this summer will translate well into his post-graduate and professional aspirations. "Eventually, I would like to become a neuroscience professor and involve students in my research," he said. "Through this internship I've learned to not shy away from challenges and to embrace the responsibilities that accompany each step of the research process."