It Just Takes a Smigin
---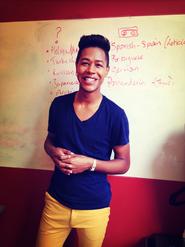 Imagine that you need to ask for directions in Madrid, but those three years of high school Spanish didn't leave a lasting impression. Fear not, because for quick phrases on-the-go, it just takes a Smigin. Smigin, pronounced "smidgen," is a new mobile translating app that allows users to build phrases and instantly receive accurate translations by selecting sentence fragments from three drop-down boxes. The app went live in the Apple® app store on Monday, Feb. 17.
Smigin, which was originally conceived as on online resource, has shifted to the mobile market to be used by lay travelers and business people in foreign language environments. The app is currently able to translate phrases into French, Spanish, and American English; but four more languages (Portuguese, Brazilian, Filipino and British English) are in the works. The translation appears in its target language, but a phonetic approximation is also available for those unfamiliar with pronunciation.
Dyllon Young, currently a junior at Hamilton College, was the first intern hired by Smigin and one of its seven founding level members. Young joined the Smigin team after emailing Hamilton alumni about possible summer internships in New York City. After a series of conversations, Susan O'Brien recruited Young for her new start-up; he recalls feeling lucky to be the only "non-established team member working among CEO types."
Although Young left New York City after the summer, his work with Smigin has continued here on the Hill. Young has found native speakers at Hamilton who have helped remove non-fluencies by proofing the translations and even recorded phrases for playback through the app. Over Winter Break, Young returned to NYC and became Head of Mobile Content Development, overseeing the creation of a friendly and simple user interface. Young, an Asian Studies major, was particularly drawn to Smigin because of his interest in language; so far, he is able to speak Italian, Spanish, Chinese and French.
Young is excited that Smigin plans on hiring a couple more Hamilton students for the upcoming summer because the real world experience has proved incredibly helpful for him. Drawing off his involvement on campus – he is the co-chair of CAB (Campus Activities Board), a first-year orientation leader, a tour guide, a member of choir, and part of Hamilton's Rainbow Alliance – Young collaborated with developers in Belarus, provided feedback for the design team in NYC, and even pitched Smigin to possible investors.
The Smigin team is currently devising a monetization plan, but for now the app is available to download for free. While total fluency is not the purpose of the app, users will be amazed by how well they can get by with just a Smigin.