Jacob Kleinrock '11 Explores Herban Living
---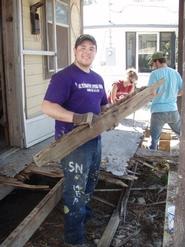 Herban Living – an organic, community-based farm located in Temple, N.H. – is not like stereotypical farms in books or movies. Yes, it raises cows and pigs. But the community also lavishly celebrates the solstices.

This summer, Jacob Kleinrock '11 is working for the Herban Living Environment Education Center (EEC), a non-profit organization associated with the farm. The goal of the EEC is to promote environmental education for groups and individuals in the southern New Hampshire region. Some of the events they host, besides solstice celebrations, include outdoor meditation, dance yoga, wild foraging classes and herbal workshops. They also organize activities for school-aged children to learn about nature. The Center's mission statement is "to nurture greater connections to self, others, community and earth through programs on the environment, art, farming, traditional skills and self discovery."

Kleinrock divides his days, which consist of 10 hours Monday through Friday and seven hours on Saturday, between laboring on the farm and interning at the EEC. As a government major and environmental studies minor, he says that he will use what he's learned through this internship "[to form] a new interpretation of environmentalism at Hamilton and across the world." He says he values the experience, because much of what he is learning could bolster his already keen awareness of the political and environmental struggles that unfold during almost every modern administration.

Because the connection between politics and the environment is far from tenuous, Kleinrock is looking for a way to change America's outlook on environmental issues. "What humans are doing to the Earth is irreversible and destructive," Kleinrock asserted. "The policy of the United States will lead the way for the world to progress to either an environmentally friendly future or one that can only lead to environmental devastation."

The additional experience in public relations that this internship will give him is one of the facets of the opportunity that attracted Kleinrock. Currently, he is learning how to communicate with the IRS, write press releases, and create event flyers for the community. He also plans and organizes events and fundraisers that are scheduled for the fall. On the farm, he does everything from planting and weeding to feeding the animals. Finally, as a resident of the farmhouse, Kleinrock also has daily chores to complete.

The internship is unpaid, however, so Kleinrock needed to find a way to support himself financially while taking on a full-time internship. He applied for Hamilton's Summer Internship Support Fund, and through the stipend he received, he was able to accept the summer opportunity. The Fund covers the cost of living for students who have secured a not-for-profit internship. Through an internship, a student can explore his intended career path and decide whether or not it is in his best interest.
After Hamilton, Kleinrock plans to go to law school and work in environmental law for some time. He eventually hopes to find his way into politics, beginning at the local level.

While he's still at Hamilton, however, he consumes himself with a generous assortment of clubs and organizations. He will volunteer as an Urban Service Experience (USE) leader in August and participates in several activities that the Hamilton Association for Volunteering, Outreach, and Charity (HAVOC) sponsors. Hamiltonians may also see him on the stage as a viola player or on the quad as a campus tour guide.