Jane Hannon '11 Teams With Famed Neuroscientist Dr. Dale Purves
---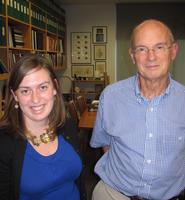 In the words of Jane Hannon '11, Dr. Dale Purves is "kind of a big deal." As the director of the Center for Cognitive Neuroscience and George Barth Geller Professor for Research in Neurobiology at Duke University, he is an ideal role model for Hannon, who is a neuroscience major and aspiring expert on the human brain's machinery. She has an internship in Purves' lab this summer, and from her desk she can watch him edit the next edition of his textbook. "I get a kick out of it," she said. "I know that I'll be seeing those edits very soon because his book will accompany the neuroscience class that I'll be taking in the fall at Hamilton."

Purves' work explores visual and auditory perception. Hannon is researching how the brain makes sense of external stimuli, like human speech, music, and sinusoidal tones. In particular, she is responsible for gathering research from journals and scholarly articles that have looked at the auditory system from different perspectives. Then she reports on her findings with her coworkers, and they discuss ways in which they can apply these theories and discoveries to what they are doing now. Hannon says she is constantly "invigorated" in this kind of environment, where she works beside one of today's' forerunners in the field of neuroscience.

"Dr. Purves has been studying human perception for decades," she said. "I am exposed to the process he uses when building his experiments, starting from the most general concepts to the nitty-gritty execution of testing his hypotheses."

Such eminent scientists did not hesitate to treat Hannon like a professional. "When I arrived here in June, it was expected of me that I already had a firm grasp on the cognitive aspects of perception," she said. Hannon is thankful for the neuroscience courses at Hamilton that saved her. Because the lab workers operate under the assumption that she knows how the brain processes information and stimuli, a working memory of these concepts was extremely useful.

But Hannon's awareness of the brain's network of firings began to bloom before enrolling at Hamilton. She frequently argued with her brother about it when she was only 10. "[I] used to ask him to prove that we saw colors in the same way – how what I perceived as blue was exactly the same as what he perceived as blue. Unfortunately for me, he never could provide an answer. In his defense, however, the lab in which I am now employed spent many years trying to answer this very question, so I can't fault my brother for ducking out with his 'because it's blue' answer."

Although she interned in the Center for Human Genetics at Duke three years ago, this is Hannon's first internship that Hamilton has sponsored. The position is unpaid, so she applied for and received the Jeffrey Fund Science Internship, which supports full-time, summer, off-campus internships related to science. Hannon urges students to be active in their searches for internships.
"From this whole experience I have learned that there is no harm in sending an email or making a phone call," she said. "If an employer declines your application you're no further behind than you were before you sent it." In fact, her internship was not originally a listed position. When she was home for spring break, she encountered interesting research on the Duke and University of North Carolina Web sites, and worked up the courage to e-mail Dr. Purves. In her message, she inquired about any available internship positions, to which he responded with a resounding "yes." Hannon remembers the process and how she might not have been offered the opportunity: "Needless to say, I was elated!"

Hannon is a graduate of Chapel Hill High School.