Jane Springer Receives 2010 Whiting Writers' Award
---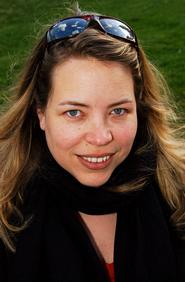 Hamilton College Visiting Assistant Professor of English Jane Springer has been named one of 10 recipients of the 2010 Whiting Writers' Award by the Mrs. Giles Whiting Foundation. The awards of $50,000 each have been given annually since 1985 to writers of exceptional talent and promise in early career.
Springer received the award in the poetry category. Her first poetry collection, Dear Blackbird, was awarded the Agha Shahid Ali Prize and published by University of Utah Press in 2007.
Springer grew up in small Southern towns and received her doctorate from Florida State University. She has been an NEA Fellow, and her poems have won an AWP Intro award and the Robert Penn Warren Prize for Poetry. Springer's work has been published in the Cincinnati Review, New Letters, and the Southern Review, among others.

The Whiting selection committee found Dear Blackbird, "thoroughly imaginative, thrilling work. She (Springer) makes splendid connections between the narrow world she knew as a child and the intimate rhythms she acquired as a poet. She is a poet full of verve and lyrical passion, a new and authentic American voice. There's as much verbal energy in a single poem as many poets use in an entire book. She's not afraid to get her hands dirty and play in the mud of Poetry Land."

Patrick Reynolds, interim dean of faculty, said "I'm delighted to congratulate Jane as a recipient of one of this year's Whiting awards. Since Jane joined the faculty just over two years ago, she's been a wonderful addition to our creative writing program, both in terms of her poetry but also in her teaching and co-curricular programming contributions to the English and Creative Writing Department.
"Our Creative Writing program has much to celebrate in recent years," Reynolds noted, "with our faculty having received tremendous national recognition. The program and our faculty are gems in Hamilton's reputation as a national leader in writing, and I am envious of our students who have the opportunity to study with such accomplished poets and novelists, such dedicated teacher-creative scholars," he added. Earlier this year Associate Professor of English Tina May Hall was awarded the 2010 Drue Heinz Literature prize for her collection of short stories, The Physics of Imaginary Objects.

Springer said she is honored to receive the Whiting award. "I love Hemingway's quote: 'For a long time now I have tried simply to write the best I can. Sometimes I have good luck and write better than I can.' I hope my receiving the award means there have been days I have written more capably than I can, and that the work of those lucky days may help to obscure the truly awful tripe I've written along with it. I'm humbled, awed and happier than a two-tailed dog to receive this honor."
Dear Blackbird, was inspired by Springer's then 3 -year-old son's "obsession with The Wonderful Wizard of Oz. Our house was so filled with the music of scarecrows and tinmen that I began to write poems about them," she recalled. "Nearly every poem in the book indirectly contains some element of this American myth—even if just in the image of a sprawling cornfield or in the wish to reclaim a lost home."
The Whiting program has awarded more than $6 million to 260 poets, fiction and nonfiction writers, and playwrights. Among the past recipients who have gone on to achieve acclaim and prominence in their field are Jonathan Franzen, Sarah Ruhl, Michael Cunningham, Cristina Garcia and Luc Sante.
The 2010 recipients were announced at a ceremony at the Morgan Library & Museum in New York on Oct. 27. The keynote speaker was Peter Matthiessen, the award-winning novelist, nonfiction writer, explorer and naturalist.

Whiting Writers' Awards candidates are proposed by about 100 anonymous nominators from across the country whose experience and vocations give them knowledge about writers in early career. Winners are chosen by a small anonymous selection committee of recognized writers and editors, appointed annually by the foundation. At meetings over the course of the year, the selectors discuss the candidates' work and recommend up to 10 writers for awards to the Foundation's Trustees.