Jazz Artists Henry Grimes and Rashied Ali to Perform on Jan. 31
---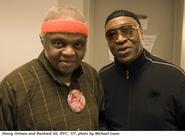 Hamilton College Performing Arts presents a performance with Henry Grimes (double bass) and Rashied Ali (drums) on Saturday, Jan. 31, at 8 p.m. in the Fillius Events Barn. Tickets are $5. Seating is limited. Call the box office at 859-4331 for tickets or more information.

The story of Henry Grimes begins in Philadelphia where he was born and raised. As a teenager, he took up the double bass, continuing his musical education through high school. Grimes also trained at Julliard where he became known as a versatile and talented bassist until money and transportation problems forced him to give up his education.

Throughout the mid-1950s and into the 60s, Grimes rose to be one of the leading bassists of the free jazz movement. He was a hot commodity and played alongside such legends as Charles Mingus, Thelonious Monk and Sony Rollins. Poised for a legendary career, the pressure of the New York scene was too great for Grimes. In 1968 moved to the West Coast, but jobs in San Francisco and Los Angeles were hard to come by, and Grimes had to sell his bass when he was unable to pay for repairs to the instrument that was damaged in the trip across the country. By 1970, Grimes was suffering from undiagnosed bipolar disorder and had all but disappeared from music. In fact, several jazz reference works listed him as presumed dead. Marshall Marrotte, a social worker and jazz fan found Grimes - not dead but nearly destitute - in 2002, living in a tiny rented room in a single-room occupancy hotel in downtown Los Angeles, writing poetry and doing odd jobs to support himself.

Grimes had fallen out of touch with the jazz world, but was eager to perform again. Word spread of Grimes' "resurrection" and bassist William Parker donated a bass (nicknamed "Olive Oil," for its distinctive greenish color) and had it shipped to Los Angeles. Since then Grimes has made an unprecedented comeback. His story has been featured in The New York Times and on NPR.

For this performance, Grimes teams up with drummer Rashied Ali. Ali is a free jazz and avant-garde jazz drummer best known for playing with John Coltrane in the last years of Coltrane's life. Grimes and Ali began performing together when Grimes returned to playing music and have toured throughout the U.S. and Europe.