John G. Rice '78 Named GE's Head of Global Operations
---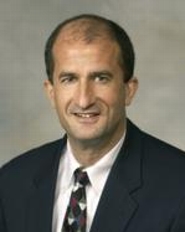 The General Electric (GE) board of directors has named Hamilton alumnus and trustee John G. Rice '78 as head of global operations. Rice, a GE vice chairman since 2005, will be in charge of GE's growth outside the United States. The appointment is effective Jan. 1, 2011, and Rice will relocate to Hong Kong, according to a GE press release.

The release quoted GE Chairman and CEO Jeff Immelt who said "John Rice has served customers, built partnerships and done deals around the world for more than 20 years. He is well known and respected by global business and government leaders and our employees. We are entering a period of great opportunity in global markets and, as a result, our teams must be more decentralized, faster and more local," Immelt noted.
Rice will be responsible for all non-U.S. markets with particular emphasis on high-growth markets such as China, India, the Middle East and Brazil where he will accelerate GE's efforts to meet customer needs with GE's leading technology and services. In many of these markets, this includes GE's "company to country" growth strategy in which GE works directly with governments to meet local needs, the statement said.

In his 32-year GE career, Rice has led two of GE's most global businesses, energy and transportation. Since 2007, Rice had led GE's Technology Infrastructure business, which included aviation, transportation and healthcare. Those businesses will now report directly to Immelt and report financial results separately beginning in 2011.
Rice earned a bachelor of arts degree in economics from Hamilton, and currently serves on the College's board of trustees. He is also a trustee of Emory University, and serves on several boards including the International Advisory Board of King Fahd University in Saudi Arabia, and the Board of the CDC Foundation. Rice is chairman of the Atlanta Education Fund, and is a past chairman of the Metro Atlanta Chamber of Commerce.