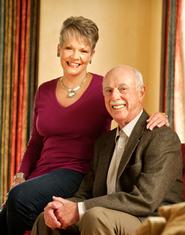 Hamilton will have a new health and counseling center because of a generous gift announced during Fallcoming weekend from Reverend Dr. Beth Johnson P'93 and Joel W. Johnson '65 P'93. Their leadership commitment will enable the college to offer best-in-class services for the student body in a setting with ample space and furnishings to provide a safe, private and welcoming environment focused on health and wellness.

The current Thomas B. Rudd Health Center, built more than a half century ago, can no longer easily accommodate student needs and offer the wellness services planned for the new facility.
Talking about their motivation for making this significant gift, Joel Johnson explained, "What's important to us is what is important to the campus. When it became clear to Beth and me that the campus needed a new health and counseling center, it was just natural for us to step forward."
"Joel and Beth Johnson are among our College's most generous supporters. Their magnificent gift in support of a new health and counseling center is one more example of their grand philanthropic spirit," said President Joan Hinde Stewart.

Among the many initiatives to which they have directed additional gifts is the Joel W. Johnson Family Professorship of Environmental Sciences, the largest endowed professorship in the college's history that was established by the Johnsons in 2006 and is held by Todd Rayne. They also created the Elizabeth B. and Joel W. Johnson Scholarship which currently supports four students.
In addition to his financial support, Joel Johnson has lent his time and expertise to the college in innumerable ways. He has been a member of the Alumni Council and the Board of Trustees, serving as an alumni trustee from 1994 to 1998, a charter trustee beginning in 1999 and a life trustee in 2013. He has also served as a volunteer for the college's annual fund, career center and admissions programs and chaired the board's committee on budget and finance from 2002 through 2013.
"The new building – thanks to the Johnsons – will be truly amazing," said Director of Counseling and Psychological Services David Walden. "Hamilton is very fortunate to have people like the Johnsons in our community to make a space like this happen. … This building will ensure that the Counseling Center has the potential to meet the needs of our students for decades to come, and it will serve as a springboard for a broader array of wellness-based offerings. In that sense, what the Johnsons are giving is so much more than a building; in the course of addressing specific critical needs at just the right time, they are also leaving a lasting impact that will extend far beyond the walls of a physical space."
The proposed facility will be centrally located on the campus in the vicinity of Tolles Pavilion, Beinicke Village and the Sadove Student Center.

According to Walden, "[It] will have two rooms dedicated to group therapy; space for a larger 'relaxation room' or 'mind spa' that could have a massage chair, meditation space and room for other equipment in addition to biofeedback; space for wellness services like acupuncture and yoga classes that focus on anxiety, depression and stress reduction; and enough room for all of our practitioners to be in the office at the same time and to accommodate future staffing needs."
In the current counseling center, there are no dedicated group therapy rooms, the biofeedback room is very small, and there is not enough space to accommodate all of the staff in the office at the same time. Yet demand for services has increased rapidly, as it has on campuses throughout the country. A New York Times article (May 27, 2015) noted that, "Nearly one in six college students has been diagnosed with or treated for anxiety within the last 12 months, according to the annual national survey by the American College Health Association.
"As students finish a college year during which these cases continued to spike, the consensus among therapists is that treating anxiety has become an enormous challenge for campus mental health centers," The New York Times article reported. At Hamilton, by graduation, the center has seen between 40 and 50 percent of the class through direct service. The total number of sessions requested last year was more than 3,500.
The counseling center offers individual and group therapy sessions, dietician services, outreach and consultation training, psychiatric services, 24/7 crisis coverage, some biofeedback services and experiential programming including "Therapy on the Rocks," a therapeutic climbing program," and "Wilderness Quest," a partnership between the Counseling Center and Outdoor Leadership Center.
In discussing her motivations for directing their gift to a new health and counseling center, Beth Johnson, a psychologist and an ordained minister, replied, "I am aware of the stresses and strains that young people have in college – it's a time of transition and students are trying to gain skills to manage life on their own – everything comes at them at once and they begin to become more aware of their own personality. Even healthy people need to talk. There should be nothing shaming about counseling services and a college should be able to provide the necessary resources.
"…Students are accepted based on their record and academic capabilities but a college has to meet the needs of the whole person and teach students how to care for themselves in all areas of life," said Beth Johnson. "This is aligned with the issues in which we are interested."
"The Johnsons' substantial donation to the college to fund the construction of a new Wellness Center is groundbreaking," said Medical Director of Student Health Services Aimee Pearce. "With this gift, they have created an opportunity that will have a positive effect on the greater Hamilton community for years to come. Their recognition of and support for developing the health and counseling resources at Hamilton is visionary. The physical and mental health of the student body is instrumental in ensuring their success both during academic years and beyond."
Services provided by the health center include scheduled and triage based provider visits, travel counseling, lab draws, sexual health and substance abuse counseling, eating disorder and concussion management, EMT services, immunizations, insurance referrals, diagnostic testing, performance of minor procedures and medical crisis management. The number and complexity of visits continues to increase. In 2013 there were 2,630 scheduled visits and by 2015 this number has reached 3,984.
"This generous gift will bring the vision of a state of the art facility to fruition," said Pearce. "A floor plan is being developed to bring the design and function of the health center in line with other modern medical facilities, with a focus on privacy, access and comfort. Proposed building models are also intended to allow more fluid interaction between health and counseling to facilitate collaboration and more comprehensive wellness services in order to treat the whole student."
"I am impressed by the energy on campus," Joel Johnson added. "The EMTs for instance. They are confident, dedicated and committed 24/7. … The energy and self-motivation on campus will leverage our investment."
In explaining their ongoing engagement with the college, Joel Johnson said, "Hamilton is at the top of our list because the college was generous financially when I needed its generosity. It was also generous in providing me an education far more valuable than its cost."
After graduating from Hamilton, Johnson earned an M.B.A. from Harvard Business School and then had a long career in the food business culminating in chairman and CEO of Hormel Foods for 14 years, during which the company thrived and the stock multiplied five times. Early in his career, he also had a military leave during which time he served as an Army Captain in Vietnam and earned a Bronze Star.