Jon Bon Jovi and Kings of Suburbia Concert Benefits Arts at Hamilton
---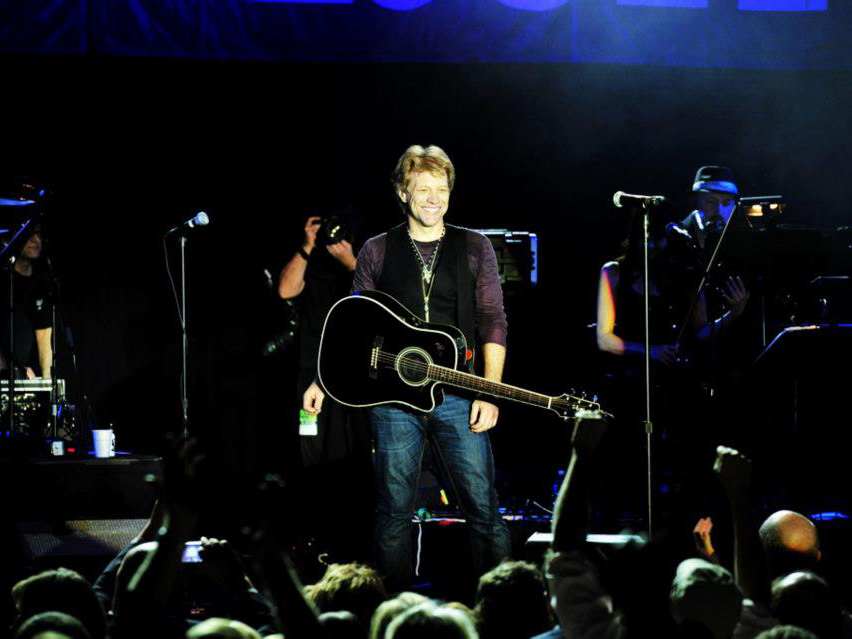 Jon Bon Jovi and The Kings of Suburbia played to a sold-out group of Hamilton alumni, parents and friends at New York's Best Buy Theater on Dec. 5 in a benefit concert for scholarships and the arts at Hamilton. The DownBeat Keys, a Brooklyn-based hip-hop band featuring five Hamilton College alumni, opened for Bon Jovi.
Members of The DownBeat Keys are Baldwin Tang '10, Andrew Root '09, Jared Schneider '11, Kadahj Bennett '12, Ryan Calabrese'09 and Anthony Mathieu '12.
"Sharing the stage with a rock star on the level of Jon Bon Jovi is the type of thing bands joke about because it seems like such an impossible dream," said band member Andrew Root. "Yet here we are, on the same bill with one of the best-known musicians of our generation. We're extremely grateful to the Hamilton community for giving us this unprecedented opportunity and proud to represent our college's incredible arts program."
Jon Bon Jovi has set the bar for nearly three decades as one of the world's most successful musicians. Globally, his Grammy-winning band Bon Jovi has sold more than 130 million albums, consistently delivered #1 albums and Top 10 hits, and performed more than 2,600 concerts in over 50 countries for upwards of 34 million fans.
All proceeds from the concert will support student scholarships and the theatre and studio arts building currently under construction on the Hamilton campus.