Julia Mulcrone '11 Magazine Internship Sets Stage for Journalism Career
---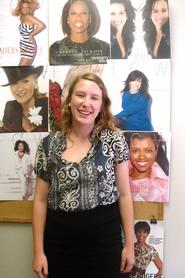 Journalism is the world's transcript – the records accumulate but never disappear, even if we persistently try to ignore them. Julia Mulcrone '11 says that in this way, journalism is "extremely important because it is the medium through which people learn about the world—it's hard not to care about." This summer, in preparation for a career in journalism, she is interning for Today's Chicago Woman magazine, which has a target audience of women in their 30s to 50s. They offered her an unpaid position, however, so she applied for and received a stipend from the Joseph F. Anderson '44 Internship Fund, which helps students who have full-time, unpaid internships cover outside expenses.

The magazine's office is located along Chicago's Magnificent Mile, an avenue brimming with the arts, dining, shopping, and hotels. Today's Chicago Woman launched in 1982 and reaches about 203,000 people, according to a private study. "It deals with women's issues that transcend the superficiality of other women's magazines," Mulcrone said.

Most of her responsibilities consist of conducting interviews, writing stories, compiling responses from sources, pitching story-ideas, transcribing interviews, fact-checking, proofreading, going to events and picking up clothing for photos shoots.

But as with every other journalist, her first priority is getting stories in on time, and she abides by a strict deadline. A word limit affects her writing too, and she has to balance brevity with quality – a task that has improved her clarity.

Mulcrone often has to adapt her writing to different styles, though, and her attachment to her own style makes this a challenge. "One of the things I have had to adjust to is writing in a style that's not necessarily my own, which has been a good learning experience," she said.

It is also a necessary experience, especially because there are so many types of magazines in circulation. Her writing has taken on a new dimension, making it easier for her to adapt to a style change in the future. She also is more aware of what is involved in running a publication, from organizing editorial to acquiring advertisers. As an added bonus, she receives passes to press-only events in Chicago, and interviews people like Rick Bayless, a local celebrity chef who won an episode of "Top Chef Masters." Mulcrone spoke with him at a press conference regarding Chicago Gourmet, a festival that takes place every September.

"I was so nervous that I probably would have chickened out had my editor not sent me on an assignment," she said. But she testified, with relief, that their discussion went much better than expected.

Hamilton does not offer a journalism major, so Mulcrone is an English and French double major. "But even if Hamilton did have journalism," she said, "I think I would still pursue English. I like studying literature too much."

Mulcrone keeps her schedule at Hamilton filled with activities related to writing that will reinforce her career path. Among other extracurricular activities, she is on the editorial staff for Red Weather and writes news stories for The Spectator.

Mulcrone is a graduate of Saint Ignatius College Prep.