Julie DiRoma '10 Focuses on Environment in Internship
---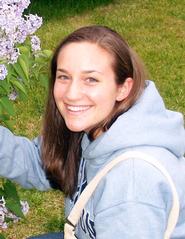 The environmental studies major with a focus in the humanities is not based on geology or biology. Rather, it highlights the philosophical and historical aspects of nature's wonder. Julie DiRoma '10 is channeling this interest in environmental theory into a potential career in policy or education. Although a scientific mode of thinking is ideal for some students, DiRoma prefers to discuss the human angle on nature. This summer, she attends environmental sustainability councils as a part of her internship with the Syracuse-Onondaga County Planning Agency (SOCPA) in the Onondaga County Government.

SOCPA is an organization that helps guide development within the County by reviewing site plans, making recommendations to local municipalities, and developing public education campaigns to promote smart growth. It also assists with studies and data collection and has a role in other planning, community, and economic development projects around the County. SOCPA works closely with other groups like the Onondaga County Water Authority and County Public Health Engineering.

DiRoma spends most of her time at the Planning Agency, though for a few weeks, she was in the City of Syracuse Zoning Office where she worked on case research to update their logbook. She attends many meetings and sessions through the Agency, such as an Emergency and Disaster Preparedness program, a County Planning Board, and a Greater Syracuse meeting on Green Infrastructure. She also creates fact sheets on different planning concepts that are given to various town and county supervisors so they may implement a better sustainability plan. The fact sheets are also part of a community education campaign that will inform residents of the need for suitable and effective plans of action for environmental and historic preservation.

When she was considering her summer job options in the spring, DiRoma knew she wanted to test her interest in something more related to the government. "I did a lot of Google searches for environmental planning organizations and finally decided to work with SOCPA to see more of the governmental side of the planning process," she said. She has learned much about how government functions at a county level. "Even though we live in a globalized world, I've been learning more about the importance of thinking regionally, too."

This is not DiRoma's first internship. Last year while in Hamilton's New York City Program, she interned at the Open Space Institute (a land trust and conservation finance organization) in Manhattan to fulfill one of the program requirements. The position was unpaid because it was a program mandate. However, the experience introduced her to a career in planning. As her enthusiasm for the field steadily increased, she decided to work with SOCPA. The job was again unpaid, so she applied for and received the Summer Internship Support Fund. This fund supports the cost of living assistance to students who might otherwise have insufficient resources to take on a summer internship, including a paid or unpaid opportunity at a for-profit or not-for-profit organization.

Although she has not come to any firm conclusions as to what she wants to do for a career, DiRoma feels somewhat attached to sustainable community planning, which she claims is "essential for creating a lifestyle that is not completely reliant on automobiles."

DiRoma is involved in many activities on campus, such as HAVOC, Oratorio Society, Newman Council, dance and Admissions. However, her keen respect for the environment has been a long journey. As a high school student, she took part in a case for local farmland protection in order to save a rural area from becoming another suburban residential subdivision. Her efforts reflected an activism that set her apart from other high school teenagers.

DiRoma is a graduate of Cicero-North Syracuse High School.