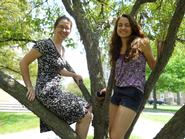 Language is undoubtedly a fundamental aspect of many human interactions. For this reason, the study of language serves a vital purpose in neuroscience, medicine, and even everyday life. Sarah Kane '12 and Amanda O'Brien '13 are spending their summer researching language and the brain under Assistant Professor of Psychology Jeremy Skipper. The group is working to disprove the classical model of language processing and to discover more about how language is processed in the human brain.
The classical model of language states that language processing and production occur through only one pathway in the brain, specifically in Wernicke's and Broca's areas. The model that Professor Skipper proposes, on the other hand, asserts that language is processed and perceived by many areas of the brain, including areas associated with memory, sight, sound, emotion, and motor skills. In other words, a true understanding of language perception requires more than the Broca and Wernicke areas—the whole brain is involved in speech comprehension.
O'Brien and Kane are working to find proof for this new model, focusing specifically on visual cues in language perception and processing. Their research involves measuring participants' brain activity with an EEG cap, which uses electrodes placed on the scalp to electronically detect which areas of the brain are activated at which time. The study is unique in that it employs video footage, allowing the participant to witness a real-world exchange instead of only listening to speech. This is important because most language studies focus solely on audio tracks of single syllables or words. Most of the project draws from previous research by both Professor Skipper and Jeremy Safran '11; O'Brien and Kane are working on gathering more data and finding more proof for their findings.
The students take an active role in the project's design and execution. Under Professor Skipper's guidance, they have scripted, filmed, and edited their own video footage. They also learn how to use an EEG cap and how to interact with participants so they can eventually run the participants themselves. They enjoy the level of autonomy they have been granted, and take their responsibilities very seriously.
The pair most looks forward to running participants and learning how to use new equipment and software. Over the summer, O'Brien and Kane want to finalize and perfect their project's design so they will know exactly what to expect when they start running participants in the fall. Currently, they are in the video-editing stage of their research, using professional video-editing software.
Because this project cannot be completely finished in six weeks, Kane, a neuroscience and theater double-major, intends to continue it as her senior thesis. She looks forward to the opportunity to make a difference with her work, as this type of research can hold important medical implications. For example, if researchers find substantial proof for Skipper's model of language, neuroscientists can begin taking a new, more holistic approach to treating stroke patients. Treating the brain as a whole can open new doors for these patients, allowing them to truly make the most of the brain functions that are still fully intact. O'Brien, a neuroscience major who intends on pursuing a career in speech-language pathology, finds this project to be highly relevant to her goals because the results may also apply to understanding the neurological bases of speech impediments.
Outside the lab, Kane is part of the Scottish Country Dancing club, student organization ELS, and both department and Untitled@Large theatre productions. O'Brien participates in the Young People's Project (a project that facilitates math literacy at a local middle school), she is a Resident Advisor, and she plays IM volleyball. Both enjoy orthography and oneirology and are avid punsters.
Despite how common speech is in everyday life, there is still much to learn about how it actually works in the brain. If Kane and O'Brien successfully find proof for Skipper's new model of language, their work will not only prime them for their careers, but will help establish a new perspective in a traditionally stagnant body of research.
Sarah Kane is a graduate of Pinewood School in Los Altos Hills, Calif. Amanda O'Brien is a graduate of Clayton A. Bouton HS in Voorheesville, N.Y.