Katie Jickling '15 Named "Best Rookie Reporter" by Vermont Press Association
---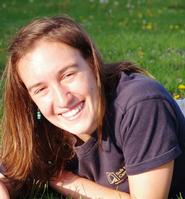 Katie Jickling '15 was awarded "Best Rookie Reporter" by the Vermont Press Association for her reporting work at the weekly newspaper, The Herald of Randolph, Vt.
Jickling said she started working at The Herald during her senior year of high school, writing a few days a week as an independent study. "I wrote for The Herald during the summers of 2010, 2011, and 2012, as well as during winter breaks," she said. "I covered all types of stories: politics, local sports, in-depth feature stories and news." Jickling is writing for the newspaper over Hamilton's winter break.
The entry for the Vermont Press Association consisted of three articles she wrote, including one about the controversial issue of public funding of local private schools. In the second she interviewed Vermont's lieutenant governor -- who is also a racecar driver -- in the statehouse and on the racetrack.
At Hamilton, Jickling is a government major with a minor in English. "I'm not sure what I want to do as a career...although journalism is a definite possibility" she remarked. Since writing for The Herald, Jickling has also worked for other Vermont news organizations. In addition, she is a Writing Center tutor at Hamilton.
The Herald received eight awards, tops in the state, four of them plaques for first place achievement.
According to its website, "The Herald of Randolph has been the voice of the towns in the beautiful White River Valley of Vermont since its founding in 1874. During that time it has had only four publishers and is considered one of the premiere weekly newspapers in Vermont. The Herald routinely wins awards for news and editorial writing and photography from the Vermont Press Association and the New England Press Association."